BGS news
New climate change art and science exhibition opens at the National Mining Museum Scotland
The exhibition will take viewers on a journey through a series of geoscience themes, showcasing how climate change affects our urban and natural environment.
29/11/2021
By BGS Press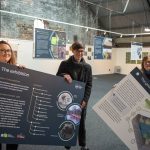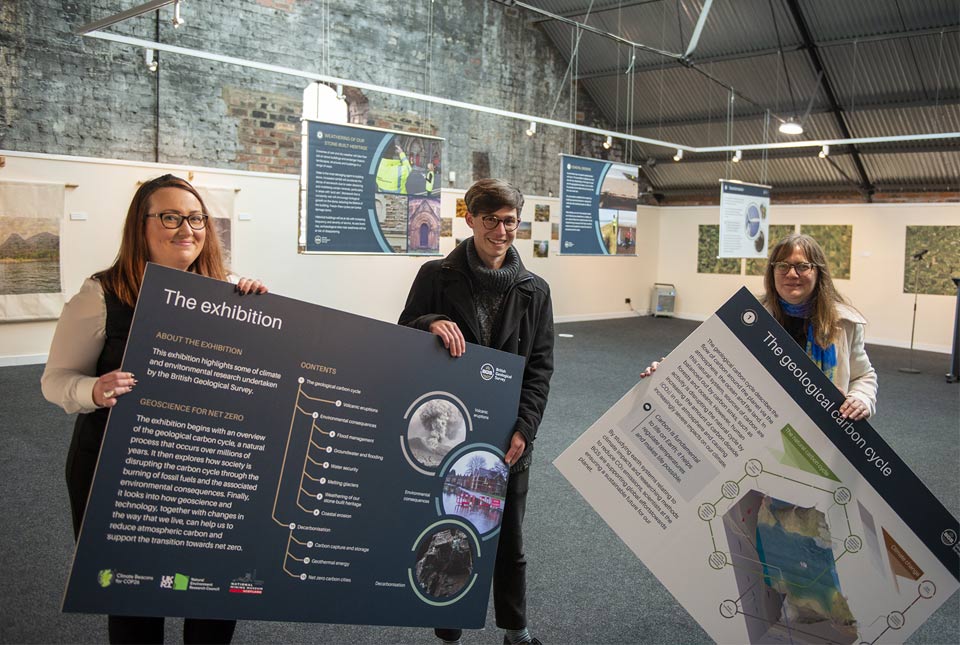 A new art and science exhibition showcasing geoscience and the impact of climate change has been officially opened today by Jenny Gilruth MSP, Minister for Culture, Europe and International Development, at National Mining Museum Scotland (NMMS) in Newtongrange.
The Carbon Conflict and Climate Change exhibition, which will run until spring 2022, is a collaboration between the NMMS and BGS. The exhibition will take viewers on a journey through a series of geoscience themes. It will showcase how climate change affects our urban and natural environments, focusing on the global transition away from fossil fuels as a source of energy,towards a future of decarbonisation, connecting local and international cultures through art and science.
Culture and the arts have a vital role to play in raising awareness about the climate emergency and I'm sure this inspiring exhibition will encourage people to consider how their individual behaviour or actions could change as a result.

One of the ambitions of our Culture Strategy is for the heritage and culture sectors to lead the conversation when it comes to our response to climate change. The way a wide range of partners have come together at the Midlothian Climate Beacon to create a legacy for the future is therefore really impressive.

Jenny Gilruth MSP, Culture Minister
It will feature works by environmental artist and BGS soil hydrogeologist, Nicole Manley, whose work uses a combination of digital collage, clay sculpture and light and sound installation to generate connections between people and environment.
It's been extremely rewarding to take part in such an inspirational, Scotland-wide collaboration and bring together shared scientific resources and knowledge through art.

Sharing complex natural processes through an artistic dialogue, such as how the flow of water and the weather constantly transform our surrounding environment, has the ability to connect local and international audiences across different cultures and will help more people to engage intuitively with climate change and COP26, because it matters for our future.

Nicole Manley, BGS soil hydrogeologist
The exhibition forms part of the Creative Carbon Scotland-led Climate Beacon project. Seven 'climate beacons' have been created across Scotland that combine cultural, heritage or arts organisations and climate or environmental organisations, with the aim of stimulating long-term public engagement prior to and following COP26, which took place in Glasgow from 1-12 November 2021.
Exhibition highlights include short films from scientists who reveal how our coastlines, glaciers, volcanoes, water, soils, rocks and building stones are all intrinsically affected by climate change. Technology-led adaptations to climate change are also explored through research themes relating to renewable energy, zero carbon cities and carbon storage. Alongside these works, viewers will be able to see and take part in 'Weathering Earth, an ongoing participatory art installation inviting people to make a clay sculpture relating to climate change. The sculptures will be placed outside to be weathered over several days, before being brought back on display in the main exhibition to create one large installation from many small sculptures.
This exhibition breathse news life into the importance of geoscience for our natural environment and urban spaces in the face of climate change.

Geoscience is essential to helping us monitor and understand natural earth processes and the impacts of climate change, so that we can support practical solutions to adapt to a changing planet.

We are very pleased to support Nicole's vision, to share her talented works with visitors and encourage everyone to come and be inspired by what the geological record can tell us about climate change and some of the fascinating technological solutions that geologists are researching and developing to help us build a more sustainable, prosperous planet.

Tracy Shimmield, Executive Director, Lyell Centre at the British Geological Survey and Heriot-Watt University.
We hope the combination of geoscience and environmental art will encourage transformative discussion about climate change through a series of workshops being held throughout the exhibition. The timings of the workshops will be advertised on the National Mining Museum Scotland's website.
We are delighted to work with BGS and Nicole as part of the Midlothian Climate Beacon project. Hosting this exhibition is exciting as it allows us to explore the challenges that climate change presents and to consider solutions on an individual and community level that can bring about positive change.

Whilst we strive to learn from the past and tell the story of Scotland's energy journey, NMMS is delighted to be given this platform and opportunity to focus on this challenging subject and important issues that are front and centre in the world right now. We hope this exhibition will allow visitors to learn, reflect and consider their place within the climate change challenge.

Mhairi Cross, National Mining Museum Scotland Chief Executive.
Relative topics
For media enquiries please contact:
Victoria Robb, education manager, National Mining Museum Scotland | education@nationalminingmuseum.com | 0131 663 7519
Hannah Pole, communications and media manager, British Geological Survey | hapo@bgs.ac.uk | 07565 297 132
Notes to editors
Climate Beacons for COP26
Climate Beacons for COP26 is a Scotland-wide collaborative project between climate change or environmental organisations and arts, heritage, or cultural organisations to stimulate long-term public engagement in the lead-up to and following COP26. About Climate Beacons for CO26 and the Midlothian Climate Beacon.
 Creative Carbon Scotland
About Creative Carbon Scotland | Creative Carbon Scotland
National Mining Museum Scotland
The National Mining Museum Scotland is a 5-star visitor attraction based at the Lady Victoria Colliery in Newtongrange Midlothian. NMMS is a Registered Scottish Charity with a Recognised Collection, spanning Scotland, and award winning education programme. It aims to preserve and promote Scotland's mining history and heritage for current and future generations. Through learning from the past we hope to tell the story of Scotland's energy journey and help move towards a more sustainable Scotland.
British Geological Survey
The British Geological Survey (BGS) is a world leading applied geoscience research centre that is part of UK Research and Innovation (UKRI) and affiliated to the Natural Environment Research Council (NERC). BGS core science provides objective and authoritative geoscientific data, information and knowledge to inform UK Government on the opportunities and challenges of the subsurface. It undertakes national and public good research to understand earth and environmental processes in the UK and globally. Its 650 staff work across the UK with two main sites, the head office in Nottingham and Lyell Centre, a joint collaboration with Heriot Watt University in Edinburgh. BGS works with more than 150 private sector organisations, has close links to 40 universities and sponsors about 100 PhD students each year. Please see www.bgs.ac.uk.