You can download, print and make a number of paper dinosaur puppets to play with or colour in a geological timeline to hang in your bedroom or classroom.
Spiral timeline
The spiral timeline illustrates some of the animals and plants that have lived at different periods in Earth's history, from the earliest life to human beings.
Download, print and cut out the spiral timeline mobile and hang from a bracket or ceiling.
The spiral timeline was designed and published jointly by BGS and the National Museum of Wales.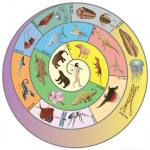 Hand puppets and models
Models
You may also be interested in