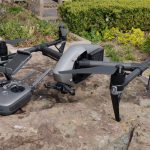 BGS primarily uses unpiloted aerial systems (UAS), or drones, to collect data for geological investigations, mapping and surveying, and for promotional purposes. We maintain a number of multi-rotor UAS of different sizes and capabilities that are equipped with various sensors for capturing optical, thermal, multispectral or LiDAR images.
Some of the resources we create from the collected data include:
photos and videos
3D maps
orthomosaics — highly detailed, map-like images made by combining many smaller images
2D and 3D meshes and point clouds (for ground surface reconstruction)
Drones play an important role in our research, allowing our scientists to rapidly capture data that we can use to understand and monitor geological processes. For example, we can:
repeatedly survey rapidly eroding cliffs on the east coast, to monitor erosion rates
create models of landslides that, when combined with subsurface data, help us to understand landslide processes
model geological faults in 3D, enabling us to understand the UK's faults and any risks they might pose to critical infrastructure
make maps of the ground surface temperature, to help identify geothermal resources
BGS drones are flown by BGS pilots who hold a Civil Aviation Authority (CAA) General Visual Line of Sight Certificate (GVC). The drones are insured and the pilots make sure that they keep up to date with CAA regulations, including maintaining the minimum flying times stated and submitting our operations manual, pilot logbooks and insurance certificate to the CAA for annual checks. The pilots also observe the CAA-regulated limit when flying near to residential, commercial, industrial or recreational premises. We fly drones at our sites, such as in Keyworth and the Lyell Centre in Edinburgh, because we have permission to take off and land there, and because we have control of the people at the site. There are also open areas where they can take off and land safely.
Reasons for flying the drones on our own sites include:
maintaining pilot flying hours, in accordance with CAA operational authorisation requirements
testing and developing the drones' sensor capabilities
creating a digital model of the site
recording progress of and capturing promotional material for activities such as geothermal drilling or installing solar panels
monitoring the condition of our buildings and infrastructure
educational purposes and training new pilots
We have a CAA-approved operational manual, with which all pilots comply. The manual insists that the privacy of all individuals is maintained and that we follow any GDPR policies.
You may also be interested in