BGS news
UK's geomagnetic blind spots tackled with new observatories
Three new geomagnetic observatories have been installed across the UK to fill in the country's 'blind spots' and tackle the risk posed by space weather.
28/07/2022
By BGS Press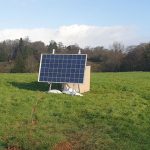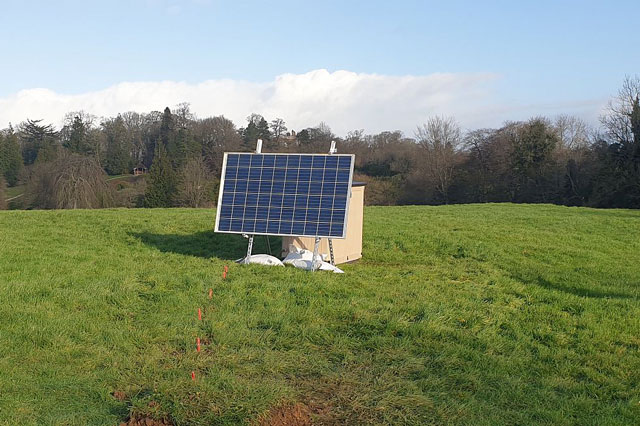 Three new underground geomagnetic observatories in County Fermanagh, Leicestershire and Sussex will detect and eventually help predict space weather, which can potentially disrupt power grids, satellite communications and the GPS on smartphones.
They were installed underground in quiet, rural locations by the BGS Geomagnetism team. The solar-powered observatories will collect data about Earth's natural magnetic field and send it back to BGS in real-time, using the mobile phone network.
Why do we need new geomagnetic observatories?
Intense geomagnetic storms can have an adverse impact on technology like
power systems, satellite operations and smartphones.
The new magnetometers mean we now have full coverage of magnetic field change across the UK.

Very large geomagnetic storms produce widespread aurora. While beautiful, they have the potential to be incredibly disruptive.

They could cause power disruption and affect essential services like satellite communications and transport.

Now that we have monitors in our blind spots, we will better understand in detail where and what ground effects can occur and understand why they happened.

Dr Ciarán Beggan, BGS Geophysicist.
Britain has had geomagnetic observatories in Shetland, Eskdalemuir and
Devon since 1908, covering the country from north to south; the three new observatories will improve the breadth of measurements from west to east.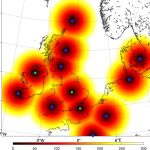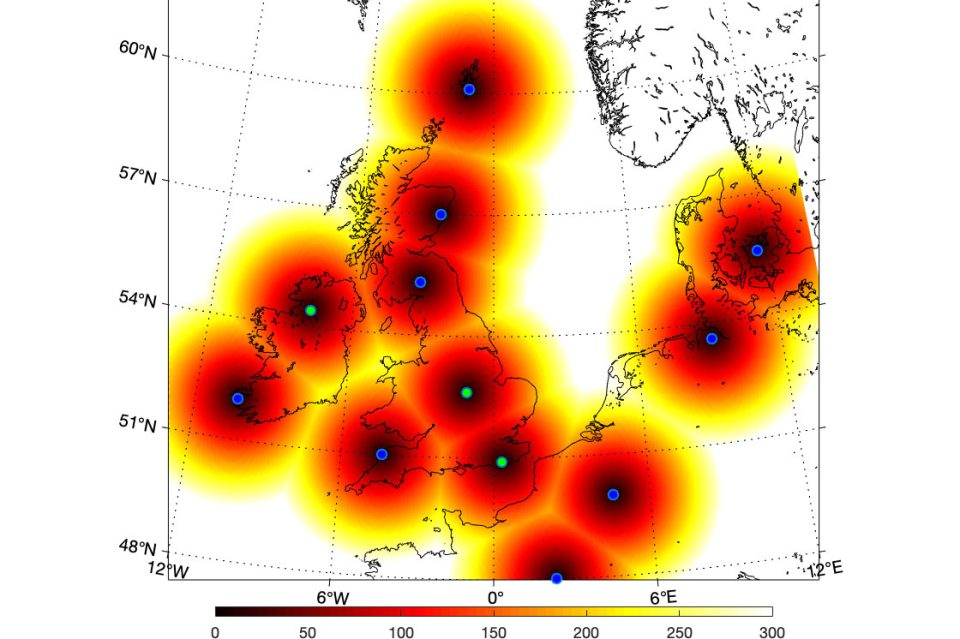 Mitigating a national risk
Severe space weather was included in the UK Government's National Risk Register 2020.
Geomagnetic storms are one form of space weather. They interrupt essential
services by creating geoelectric fields in the subsurface, which then flow
into transformers, pipelines and railways, causing malfunctions.
Other effects include an increase in the density of the upper atmosphere (ionosphere), which disrupts radio waves passing through it. This leads to a loss of signal between the ground and satellites, affecting communications and the accuracy of global navigation satellite systems (GNSS). A huge number of technology systems rely on GNSS, including:
phones
trains
self-driving vehicles
timing for internet transactions
Major geomagnetic storms are relatively rare but, as Dr Beggan points out, they
have a pattern.
Major geomagnetic storms happen every 30 or 40 years in the UK, but we haven't had a big one since 1989.

We live in a completely different society now, where we are all reliant on
continuous electricity supplies, smartphones and satellite communications — a major geomagnetic storm could significantly reduce those services.

We're currently moving into a stronger part of the solar cycle, which means the chance of large geomagnetic storms is greater.

Geomagnetic storms are currently hard to predict in terms of size or even arrival time from the Sun. Adding the new sensors means we are able to measure their effects on the ground in real-time and advise on the impact on technology.

Dr Ciarán Beggan, BGS Geophysicist.
Further reading
Funding
The geomagnetic observatories were funded by UK Research and Innovation's £20 million Space weather innovation, measurement, modelling and risk (SWIMMR) programme.
Relative topics
Media contact: Sarah McDaid (sarah@mcdaidpr.co.uk 07866789688)
How were the new sites selected?
Ciarán Beggan said: 'We need a magnetically quiet, secure site. A magnetically quiet site must be at least 250 m from buildings, power lines and electric fences and 5 km from an electrified train line.
'Ideally, it will have a south-facing aspect for the solar panel and 1 m of soil to allow the sensor to be buried. We ask permission from the landowner prior to installation. We want locations that are around 200–250 km from the existing observatories as this is the general "scale" of magnetic field changes during geomagnetic storms.
'Fermanagh is the most westerly part of Northern Ireland. The Sussex site is relatively easterly and is part of an existing BGS facility at Herstmonceux. The Leicestershire site is approximately in the middle of England, equidistant between the observatories in Devon and Eskdalemuir.'
Examples of geomagnetic storms having adverse impact: