BGS news
Science is helping us to understand why African elephants move between landscapes
Growing concern for African elephants has prompted scientists to understand more about their movement choices.
20/05/2020
By BGS Press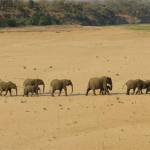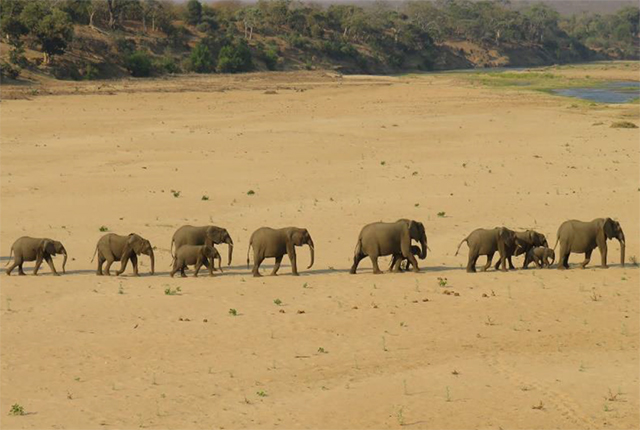 Scientists are beginning to understand how African elephants adapt their movement patterns in search of essential nutrients in their diets — a problem that is leading elephants to live closer to human activity.
This is a growing concern for African elephants, which have been in decline since the 1970s, and has prompted scientists to understand more about their movement choices.
Now, researchers at the Centre for Environmental Geochemistry, a joint collaboration between the University of Nottingham and BGS, have led the first study that looks at methods to assess mineral status in African elephants.
The research, published in May 2020 in Scientific Reports, could help to manage wild elephant populations and reduce conflict with humans where competition for land becomes a problem.
'Human/elephant conflict presents major issues, causing threat to human and elephant life as well as loss of livelihoods,' explains Fiona Sach, a doctoral student funded by the Envision NERC Doctoral Training Programme, who led the study.

'Rising human populations and natural habitat loss have caused devastating effects on populations of African savanna elephants, which are forced to meet their dietary needs in increasingly smaller geographical areas.

'This can present a huge nutritional challenge and cause animals to adapt their movement patterns to meet their dietary needs for specific minerals.'
There are 28 minerals known to be essential to the health of elephants, including phosphorous, calcium and magnesium. An imbalance in dietary intake of a mineral could lead to clinical deficiency, reproductive issues and reduction in life expectancy.
Problems can arise because African elephants have the capacity to extensively alter the landscape when seeking nutrients in their diets. They can destroy a farmer's livelihood in just a few short hours.
Scientists worked with 21 elephants from five supporting UK zoos, as well as animal-management organisations in South Africa, to conduct their study. Their aim was to identify the most effective indicators of mineral status in the animals.
The team collected tail hair, toenails, plasma, urine and faeces to test nutritional status at intervals and sampled food items presented to the elephants, including soil from outdoor enclosures and drinking water.
They discovered that toenails are the most effective indicator for the most number of elements in an elephant's diet, whilst tail hair and faeces are also shown to be useful indicators of key minerals, including iron.
However, Sach and her colleagues say a variety of samples are needed to draw the most conclusive picture, as faeces were found to be the best indicator for calcium status.
She said: 'Whilst we need to exercise caution when comparing these values to wild elephant populations, future work should investigate how these methods could be applied to free-living populations of elephants, especially those within smaller fenced reserves.

'This kind of sample collection is less invasive than taking blood samples, more practical in a range of environments and better for health and safety.

'It may enable us to identify individuals with mineral deficiencies and elephants exposed to uncharacteristically high levels of trace metal intake.'
The information gained from UK zoo elephants is already being used to further studies that look at the home range of elephants in South Africa. This research was also published in August 2020 in Science of the Total Environment.
It concluded that the unique geochemistry surrounding a local mine may act as a micronutrient hotspot, drawing elephants to the area. When these hotspots overlap with human activity, such as mining, it can lead to poor human/elephant coexistence and conflict.
'Understanding how minerals can influence an elephant's movement will be key to managing elephant populations in future,' adds Fiona.

'By supporting our research, UK zoos are helping to advance ongoing programmes of protection, conservation, education and research in Africa.'
Scientists have thanked the charity Elephants Alive, the South African Environmental Observation Network and South African National Parks for assisting the research.
The study was funded by the Natural Environment Research Council (NERC) Envision and the BGS University Funding Initiative (BUFI).
For further details or to arrange media interviews please contact:
Hannah Pole, British Geological Survey Press Office: +44 (0)7565 297 132 / hapo@bgs.ac.uk
Image free for media use with this acknowledgement: Fiona Sach/British Geological Survey © UKRI
Notes for Editors
The following are available for interview:
Fiona Sach, postgraduate student
Dr Michael Watts, inorganic geochemistry, BGS
Prof Simon Langley-Evans, head of School of Bioscienes, University of Nottingham
Dr Lisa Yon, School of Veterinary Sciences, University of Nottingham
The study relating to mineral status in elephants was published in Scientific Reports.
The study based in South Africa was published in Science of the Total Environment.
Summary of findings
Toenails were found to best reflect elemental intake for the largest number of elements in elephants: As, Fe, K, Mg, N, P and Se
Tail hair proved to be a bio-indicator of total intake of key minerals, including As and Fe.
Faecal samples were indicative of estimated elemental intake in the elephant for As, Ca, Cu, Se and P
Macro-mineral concentrations within blood plasma were not found to be reflective of intake.
Urine was not found to indicate estimated intake of any element.
Home ranges of elephants in the South African component of the study were reduced around micronutrient/mineral hotspots.
Overlap of micronutrient/mineral hotspots with activities such as mining causes conflicts.
Partners
The authors would like to thank all the keepers, veterinary staff and research staff at the five UK zoos who assisted with collecting samples from the elephants for this study: Knowsley Safari Park, Colchester Zoo, Noah's Ark Zoo Farm, Twycross Zoo and ZSL Whipsnade Zoo.
Assistance was provided by the British Geological Survey and the University of Nottingham with sample preparation and laboratory analysis.
Partners also included Elephants Alive, the South African Environmental Observation Network and South African National Parks.
Research and methods
Keeper-fed diet was the most likely predictor of elemental values measured in any sample matrix and was the major source of minerals in this study.
The research was supported by the Natural Environment Research Council (NERC) Envision Doctoral Training Programme and the BGS University Funding Initiative (BUFI). The funders had no role in study design, data collection and analysis, decision to publish or preparation of the manuscript.
British Geological Survey
The British Geological Survey (BGS) is a world-leading, applied geoscience research centre that is part of UK Research and Innovation (UKRI) and affiliated to the Natural Environment Research Council (NERC). BGS core science provides objective and authoritative geoscientific data, information and knowledge to inform UK Government on the opportunities and challenges of the subsurface. It undertakes national and public good research to understand earth and environmental processes in the UK and globally. The BGS annual budget of approximately £60 million pa is funded directly by UKRI, as well as research grants, government commissions and private sector contracts. Its 650 staff work across the UK with two main sites: the head office in Nottingham and the Lyell Centre, a joint collaboration with Heriot-Watt University in Edinburgh. The BGS works with more than 150 private sector organisations, has close links to 40 universities and sponsors about 100 PhD students each year. Please see www.bgs.ac.uk.
University of Nottingham
The University of Nottingham is a research-intensive university with a proud heritage, consistently ranked among the world's top 100. Studying at the University of Nottingham is a life-changing experience and we pride ourselves on unlocking the potential of our 44,000 students. Nottingham was named both Sports and International University of the Year in the 2019 Times and Sunday Times Good University Guide, was awarded gold in the TEF 2017 and features in the top 20 of all three major UK rankings. We have a pioneering spirit, expressed in the vision of our founder Sir Jesse Boot, which has seen us lead the way in establishing campuses in China and Malaysia — part of a globally connected network of education, research and industrial engagement. We are ranked eighth for research power in the UK according to REF 2014. We have six beacons of research excellence helping to transform lives and change the world; we are also a major employer and industry partner, both locally and globally.