BGS news
Film trilogy wins award and shares experiences of 1985 Nevado del Ruiz eruption
A collaborative film trilogy co-directed by BGS Volcanologist, Dr Anna Hicks, has won the overall 'Dynamic Earth' Theme Award at the Earth Futures Festival 2022.
24/10/2022
By BGS Press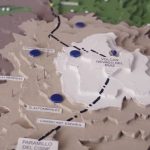 The Earth Futures Festival is an international film festival, uniting arts and science to showcase how our scientific understanding and knowledge of the Earth's natural processes can support solutions to pressing global challenges.
The award-winning films were created as part of the Strengthening Resilience in Volcanic Areas (STREVA) project, led by Prof Jenni Barclay of the University of East Anglia (UEA), in collaboration with Lambda Films and researchers from UEA, Servicio Geológico Colombiano and Universidad de Manizales.
The three short films tell the stories of those who survived the devastating eruption of the Nevado del Ruiz volcano in Colombia on 13 November 1985, when an explosive eruption at the Arenas crater melted ice and snow at the summit of the volcano, sending volcanic mudflows known as lahars down the slopes, killing more than 25 000 people up 60 km from the summit.
The films are designed to resonate with people living alongside volcanoes elsewhere in Colombia and around the world. They address how it feels to live through a volcanic eruption and help to tackle some of the most important challenges and questions that people have about living alongside volcanic risk.
One survivor, Zarina Bocanegra, describes in the film how, on November 13 1985, they were sent home from school.
We were in school and in the afternoon, ash began to fall, so they sent us home. At the beginning we were dealing with it as a joyful thing, so we started playing with the ash because we didn't know the magnitude of what was about to happen. Or what was about to come.

Zarina Bocanegra, Nevado del Ruiz eruption survivor.
BGS scientists Dr Anna Hicks and Dr Susan Loughlin have been involved in the STREVA project since its inception in 2012.
This set of films was created by an incredible research project called Strengthening Resilience in Volcanic Areas, which set out to understand volcanic hazards and their processes and, importantly, the risk and effects for lives and livelihoods.

It's wonderful that, in 2022, the films are being recognised internationally. This award is testament not only to our incredible filmmakers at Lambda and our international partners, but also to our amazing storytellers, who shared their memories and insights that so uniquely depict their experiences of one of Earth's many tragic disasters.

These films are dedicated to those who died in the tragic events of November 1985.We would urge everyone to watch for a better understanding of how we can build resilience to all hazards and risks, not only volcanic ones, and the way in which past experiences can inform our preparations and behaviour in future.

Dr Anna Hicks, BGS Volcanologist. 
STREVA (2012 to 2019) was an innovative interdisciplinary project that worked collaboratively across different disciplines between 2012 to 2019 to develop and apply a practical and adaptable means to analyse risk.
Led by the University of East Anglia (UK), the STREVA project successfully brought together diverse researchers from universities and research institutes from within the UK and from those areas affected directly by volcanic activity. New information was used to generate new knowledge, which informs plans designed to reduce the negative consequences of volcanic activity on people and assets.
In addition to the Nevado Del Ruiz in Colombia trilogy, the STREVA team have also developed a series of collaborative films with international partners to better understand how people think about living with volcanoes, how they respond in an eruption when emotions are at their highest, and how communities recover. Earlier films, produced in collaboration with the University of the West Indies Seismic Research Centre (SRC), helped to share stories of the 1979 eruption of the La Soufrière volcano in St Vincent and the Grenadines, which erupted again in 2020 with no casualties.
The work formed part of a scientific study, published in the International Journal of Risk Reduction, which used the films as a basis to analyse how digital tools can help to engage communities to tell their stories, thus informing populations at risk to catalyse action to reduce risk.
The creation of disaster-resilient communities is partly dependent upon strategies to effectively communicate hazard and risk.

Results from our survey, group discussions and reflections from project partners provide evidence that both the films and, more importantly, the act of participating in the film-making process were successful in promoting social learning. They helping motivate people to actively seek hazard and risk information, empowered people to turn that new knowledge into risk-reducing actions, and strengthened the resilience of individuals, communities and institutions who manage risk.

Dr Anna Hicks. 
Local screenings of the films took place in 2015 and the trilogy was among an impressive 972 films from 89 countries submitted to this year's Earth Science Festival. Each was carefully considered by a team of expert judges over a number of months. The festival culminated in a live-streamed awards ceremony on Saturday 15 October 2022, at the Australian Museum in Sydney.
The trilogy was created with funds from the Natural Environment Research Council (NERC) and the Economic and Social Research Council (ESRC), with support from the University of East Anglia's Impact Fund.
Relative topics