Research highlight
Environmental contamination from mine tailings in Africa
BGS scientists helped with experimental trials to investigate the influence of soil management strategies, on metal uptake of soils.
02/06/2017
By BGS Press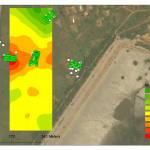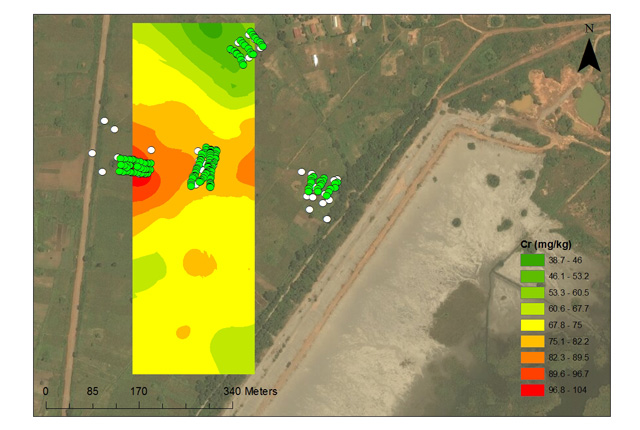 Michael Watts and Elliott Hamilton of BGS went to Zambia with Dr Godfrey Sakala of the Zambian Agriculture Research Institute (ZARI) and headed to Kitwe in the Copperbelt, where they joined Prof Kenneth Maseka from the Copperbelt University (CBU) to follow up on previous field collections in Mugala village. Field characterisation had previously identified specific plots for experimental trials to investigate the influence of soil management strategies, or conservation agriculture, such as organic incorporation, liming, and low tillage, on the uptake of metals deposited through dust onto agricultural soils from nearby mine tailings.
Experimental trials
Both Elliott and PhD student Belinda Kaninga are using the same location for experimental trials, with Elliott focusing on the control parameters for chromium (Cr) soil-to-crop transfer, employing elemental speciation and isotope dilution for pot experiments using soil samples collected on this visit across the range of Cr concentrations and soil pH identified. These experiments will be undertaken at University of Nottingham's Sutton Bonington campus.
Meanwhile, Belinda is investigating a broad panel of metals (Pb, Cu, Zn, Cd, Mn, Al, Ni) and the application of specific conservation agriculture methodologies and potential influence on the availability of metals for soil-to-plant uptake. Belinda has conducted pot trials at the ZARI research station in Lusaka, and recently set up her field plots in collaboration with the village chief and local farmers, which will run over two seasons.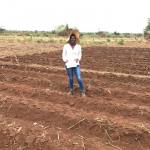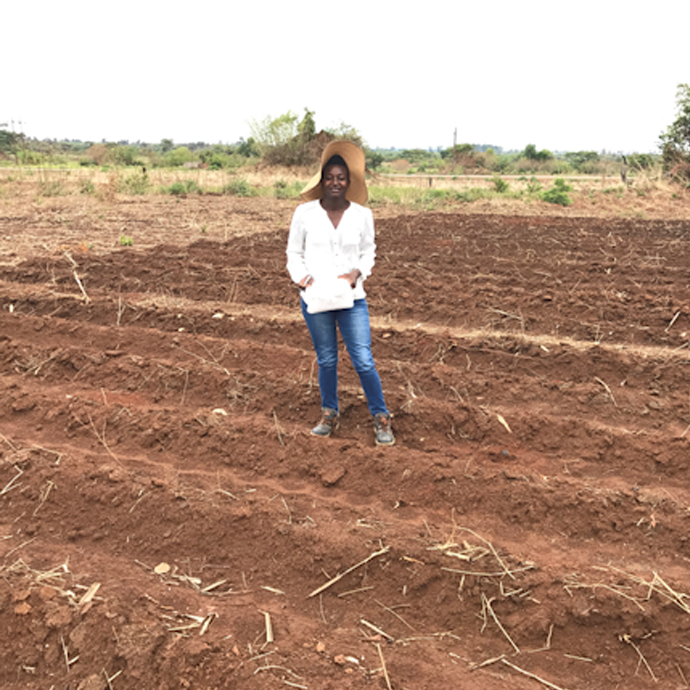 Future work
A further project was initiated with Prof Maseka and Dr Sakala to investigate the potential exposure to metals from dust inhalation from the Mugala mine tailings in the nearby village, comparing pathways of exposure from environmental samples through to biological samples from a biomonitoring collection (urine, blood). The focus of the project will be a two-year MSc project undertaken by Lukundo Nakaona, in collaboration with the CBU Department for Environmental and Agricultural Sciences and Medical School, ZARI and BGS-UoN's Centre for Environemtnal Geochemistry (CEG).
There are many other possibilities for environmental-health exposure and food-security studies with our close partners at ZARI, CBU and the University of Zambia (UNZA). In particular, there is scope for Global Challenges Research Fund (GCRF) proposals to provide capacity strengthening in technical capability to cement the strong scientific activities of our partners in Zambia, the wider Royal Society-DFID network in Zimbabwe and Malawi, and with other partners in Kenya and Tanzania.
Contact
Please contact Michael Watts or Elliot Hamilton for further information.
Relative topics