BGS news
BGS welcomes Glasgow's new Hope Sculpture at Cunningar Loop
BGS has welcomed an exciting new public art sculpture by Steuart Padwick, serving as a beacon of hope and positivity for the city.
08/11/2021
By BGS Press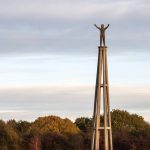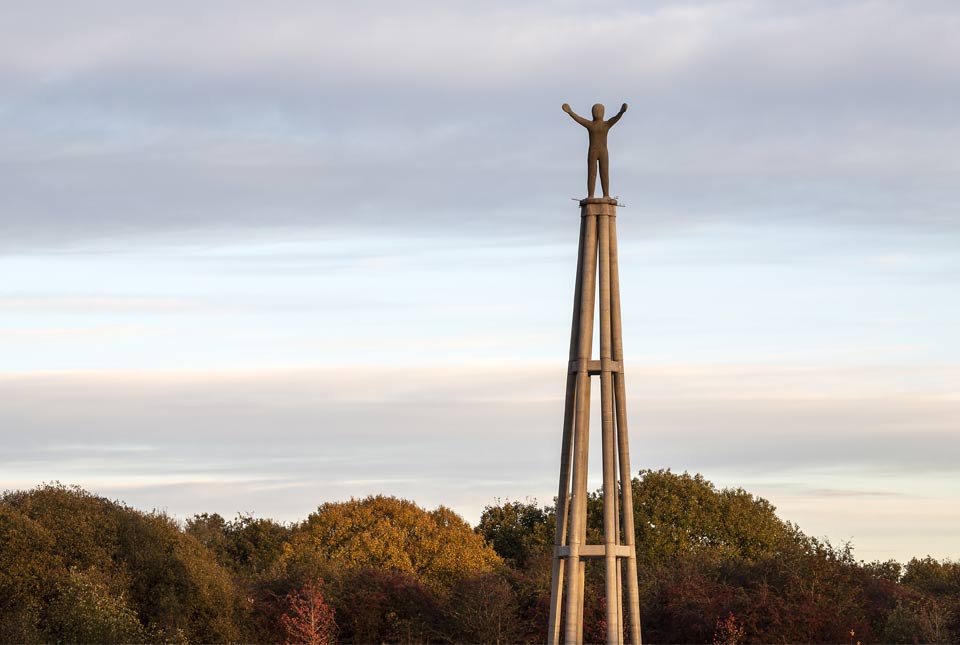 The 23 m-high Hope Sculpture is located in the beautiful woodland park of Cuningar Loop, part of Clyde Gateway, Scotland's biggest and most ambitious regeneration programme.
Cuningar Park was once a major contributor to the industrial revolution and was once the location of Farme Colliery from 1805 to 1931, the last colliery to be worked within the Glasgow city boundary. Today, it is also home to Glasgow's UK geoenergy observatory. The observatory, led by BGS, is observing flooded mine workings beneath the east end of the city to explore how geoenergy can help to deliver clean economic growth.
The Hope Sculpture will serve as a beacon of hope and positivity towards reaching global environmental milestones and a reminder that we as a society do care about each other and our planet. It forms part of a major city-wide public art installation by leading artist and designer Steuart Padwick, sited at three locations across Glasgow for COP26 and beyond.
The Hope Sculpture started as a conversation with Ramboll and became a gift from 50 companies to Glasgow. It is a testament to the power of collaboration and dedication to deliver a better future.

Steuart Padwick, artist and designer.
The Hope Sculpture stands in synchronicity with an innovative underground observatory just a few hundred metres away, repurposing old coal mine workings for renewable heat. Together, they symbolise how we can re-imagine on our industrial legacy and look forward to a greener future.

Alison Monaghan MBE, British Geological Survey.
In addition to the Hope Sculpture at Cunnigar Loop, which has been made possible with support from Clyde Gateway, a 4.5 m-high Beacon of Hope is located at the city's architecturally significant Glasgow Central Station, in partnership with Network Rail.
A further 3.5 m-high Hope Triptych is located at the University of Strathclyde's Rottenrow Gardens, in partnership with University of Strathclyde. Visitors will be encouraged to access the sculptures via a walking and cycling route that connects the pieces.
Each sculpture is being constructed using low carbon, reclaimed, recycled or sustainable materials, of which almost all have been locally sourced. It is a showcase for how leading industry partners are committed to build more sustainably, as we transition to a net zero future. The build demonstrates a 75 per cent lower carbon impact.
The monumental Hope Sculpture features an age-, gender- and race-neutral child embracing surrounding nature and reaching out to a greener, more hopeful future. The child stands above towering, 20 m-high elegant columns that take their form from the brick chimney stalks that once littered the East End of Glasgow. Unlike its predecessors, this deconstructed chimney stalk is made from an innovative new low-carbon, 100 per cent cement-free concrete incorporating locally sourced aggregates and recycled crushed glass in the child.
All lighting will be soft, low-energy and respectful of the environment and local wildlife, using fittings designed and manufactured in Scotland for the Circular Economy.
The principal build partners for the project include lead consultant Ramboll, lead contractor Urban Union (part of Robertson Group), Aggregate Industries (member of Holcim) and Keltbray.
Relative topics
About the Glasgow UK Geoenergy Observatory
The Glasgow Observatory is an at-scale facility open for research and innovation.
A network of 12 boreholes has been designed to observe how warm water moves around the abandoned mine workings over time and to monitor changes in the chemistry and to the physical and microbiological properties of the environment just below the surface.
The data will help scientists to understand the processes and impacts of this heat source and potential heat store as a sustainable way of heating homes and businesses in our cities.
About the city-wide Hope Sculptures
The Beacon of Hope at Glasgow Central features the Child of Hope reaching out to all those passing through the station.  Made from contoured layers of FSC Scottish-grown Sitka Spruce, it celebrates the expanding timber construction industry that Scotland is developing.
Padwick's third sculpture – the 'Hope Triptych' – is a playful 3.5 metre-high adaptation of the Child of Hope and is composed of three colourful figures, symbolising the power of coming together.   Located at Rottenrow Gardens the triptych is made from reclaimed sheet steel with a low carbon cement-free concrete foundation.
Linking our built environment with improved mental well-being, Padwick has worked with Mental Health Foundation on all messaging. Words of Hope have been written by some of Scotland's favourite voices, writers and poets including Jackie Kay, Andrew O'Hagan, Ali Smith, and 2020 Booker Prize winner, Douglas Stuart, as well as local school children. The words have been inscribed directly onto all of the sculptures including the Caithness stones at Cuningar Loop.
Each sculpture has mental health signposting close by to offer a range of support.
Climate change is a global emergency and one in which we all have a role to play. To inspire action and share messages of hope across the world, Padwick has teamed up with Glaswegian BAFTA winner, Hannah Currie, and All3Media's Bullion Productions to produce a thought-provoking film titled 'A Conversation of Hope'. Rooted in Glasgow, but with a universal message this will be launched during COP26.
The team has also developed dedicated activities for school children, giving an insight to the wide-ranging exciting career opportunities in the construction sector. The games, tasks and discussion topics highlight the important role designers, engineers, constructors and scientists all play in creating a more sustainable future.
The Hope Sculpture Project Credits
The Hope Sculpture prokect is led by Artist and Designer, Steuart Padwick, and Project Director, Natalie Alexopoulos.