The experience of the team in electrical resistivity tomography and other geophysical techniques is applied to a varied range of applications. Electrical resistivity tomography (ERT) monitoring as a technique is cutting edge, and the leaders in this field within the team mean that BGS Geophysical Tomography (GTom) is ideally placed to study a large number of dynamic situations.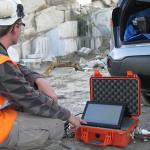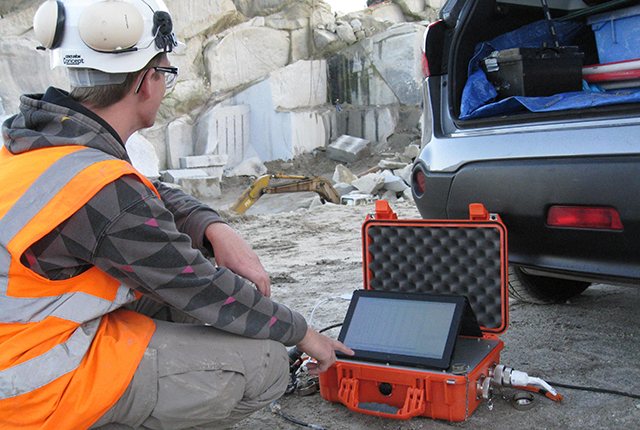 Applications range from mineral exploration and waste management to monitoring active processes within the subsurface, such as the movement of pollutants or the flow of groundwater in unstable slopes affecting infrastructure.
Quick links
Infrastructure and asset management
Geotechnical and related assets (e.g. cuttings, embankments, foundations, and dams) underpin tens of thousands of kilometres of UK transportation and utilities infrastructure. Many of these assets were constructed over 100 years ago and are typically very poorly engineered compared to modern standards. These assets are experiencing increasingly high levels of failure and require considerable resources to maintain — hundreds of millions of pounds per year in the UK alone — a situation that is being exacerbated by the greater frequency of extreme rainfall events (e.g. winter 2013–2014, February 2020).
Early identification of deteriorating condition generally allows low-cost preventative remediation to be undertaken and reduces the risk of catastrophic failures. However, conventional approaches (e.g. walkover surveys or intrusive sampling) to condition monitoring are often inadequate for predicting failure events.
GTom is developing novel geophysical approaches to characterise and monitor geotechnical assets with the aim of improving asset management. The key benefits of geophysical methods such as ERT are that they can provide non-invasive spatial subsurface information; they can be very sensitive to moisture-driven deterioration processes, and they can be configured to enable remote condition monitoring of assets.
Energy
We apply geoelectrical monitoring and associated techniques in boreholes and at the surface to address geoscience challenges related to energy (e.g. conventional and unconventional hydrocarbons; carbon capture, utilisation and storage; geothermal). Key research questions focus around subsurface fluid flow and monitoring of the near-surface environment (e.g. aquifers).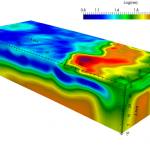 Hydrogeophysics
ERT is ideally suited to hydrogeological assessment and monitoring. Its sensitivity to fluids mean that it is able to image groundwater at a high spatial and temporal resolution.
Mineral exploration and mining
Although geophysical methods such as ERT have long been used to support mineral exploration, the full benefits of emerging geophysical imaging technologies have yet to be fully realised in the industry.
The principal advantages of ERT for this application are that it is a cost-effective, non-invasive method that can provide 2D or 3D spatial models of the subsurface throughout the full region of interest. This complements intrusive sampling methods, which typically provide information only at discrete locations.
Provided that suitable resistivity contrasts are present, ERT has the potential to reveal mineral and overburden thickness and quality variations as well as discontinuities within the body of the deposit. In addition, ERT can be used to monitor the effect of groundwater abstraction and dewatering due to its sensitivity to changing moisture levels. Consequently, we are developing electrical imaging methods for a range of mining-related characterisation and monitoring applications.
Radioactive containment
We have developed leak detection and monitoring capability to ensure radioactive containment based on cross-borehole geoelectrical monitoring and associated techniques. Research is undertaken to support hazard reduction in nuclear decommissioning (e.g. at Sellafield) as well as to prepare for potential future geological disposal of radioactive waste.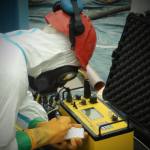 Non-destructive evaluation
We exploit the unique benefits of near-surface geophysical techniques to develop novel approaches to non-destructive testing (NDT) and evaluation (NDE) of advanced materials and engineered structures. Technology transfer from earth science to other domains (e.g. defence; security; material testing; engineering) is the wider aim of these efforts.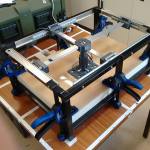 Contaminated land and mine waste
Geoelectrical methods are well suited to the characterisation and monitoring of subsurface contaminant transport. We are working on a range of projects developing resistivity and induced polarisation methods for pollution and waste applications.
Geohazards
In the context of ground instability, the observation of surface morphology tells us about failure events that have already happened or are happening. Consequently, many of the conventional investigative techniques (e.g. remote sensing; LiDAR; inclinometers) that rely upon such observations will not necessarily provide us with a prior warning of when the next failure event is going to occur. The reason for this is that such methods only monitor the physical expression rather than the causal process.
As a team, we are interested in developing geoelectrical methods to investigate a range of processes relating to ground instability, including classical landslides and slope instability, sinkhole development, and even frozen ground (freeze–thaw)-related hazards. A common link between many of these processes is the role of moisture-driven change in the subsurface. Our research is concerned with developing geophysical approaches to detect and characterise these processes, thereby providing early warning of surface expressions of failure.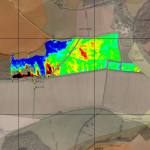 Waste management
Geoelectrical methods are highly applicable to waste management problems. They provide solutions both for landfill monitoring and characterisation. Due to its non-invasive manner, valuable information can be gained, minimising the amount of required boreholes, which are a potential risk to penetrate natural barriers, opening up new pathways, or changing the hydraulic model.