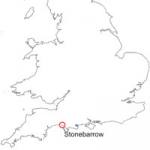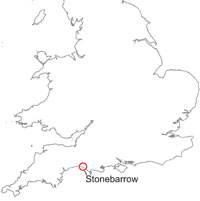 This landslide complex (Figure 1) is to the east of Charmouth in Dorset and parts of this site are sometimes also known as Fairy Dell and Cain's Folly. This landslide is well known as one of England's largest and most active landslide complexes, alongside that of the Black Ven landslide immediately to the west of it, and is a National Trust coastal site. National Landslide Database ID 840/1.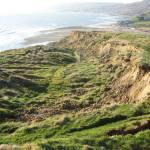 The cliffs are very high at the centre of the complex (140 m). A major landslide event occurred in 1942, a further movement in 1968, and more recently, a significant re-activation consisting largely of mudslides took place in December 2000. This resulted in closure of the coast path along the main backscarp. Movement continues at this site.
Geology and landslide trigger
The landslide mechanism is dominated by multiple retrogressive rotational movements and mudslides/mudflows. As at Black Ven, these act in the upper part of the slope (Gault Formation overlain by Upper Greensand Formation), the mudslides draping over the 'middle' bench (Dyrham Formation), and the lowermost unslipped sea-cliff bench of Lias Group (Belemnite Marl and Black Ven Marl Members) mudstones and onto the beach. The upper part of the slope is formed in the Upper Greensand and Gault Formations overlying the Dyrham Formation. The Stonebarrow Hill complex has been described in the literature (Brunsden & Jones, 1976; Lee & Clark, 2002).
The main part of the landsliding at Stonebarrow Hill is occurring in the upper and middle sections of cliff. Major re-activation of this part of the landslide took place on 28 December 2000, during which large slumps generated mudflows and debris flows, which cascaded over the lower cliff and deposited onto the beach (Figure 2). The remains of these were still visible after two years, but had almost completely disappeared by 2003. The landslide was caused by unusually high rainfall from mid-August to late December 2000, during which time 700 mm of rain fell at the Pinhay weather station near Lyme Regis.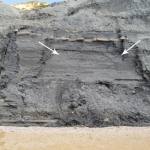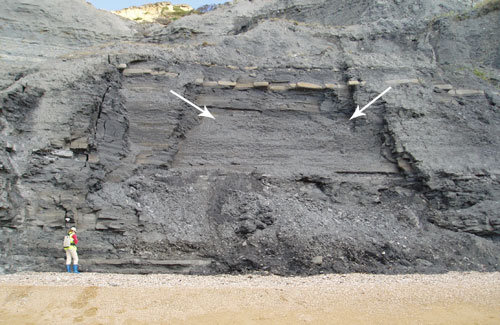 Survey
As part of a cliff monitoring programme at BGS, data has been collected from the cliffs at Stonebarrow. The principal method of survey is long-range terrestrial laser scanning (terrestrial LiDAR) — see Terrestrial LiDAR Survey Techniques.
Series of photographs from 2008
The site was revisited in December 2008 and the following photographs were taken:
Photo gallery
You may also be interested in: