A landslide near Lyme Regis in Dorset was reported in the media as having occurred on the evening of 6 May 2008. Specialist staff from the BGS Landslides Team carried out a survey of the landslide using terrestrial and aerial LiDAR to record the nature and location of the mass movement for entry into the National Landslide Database as ID 780/2.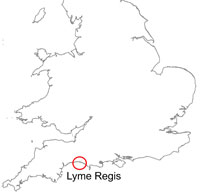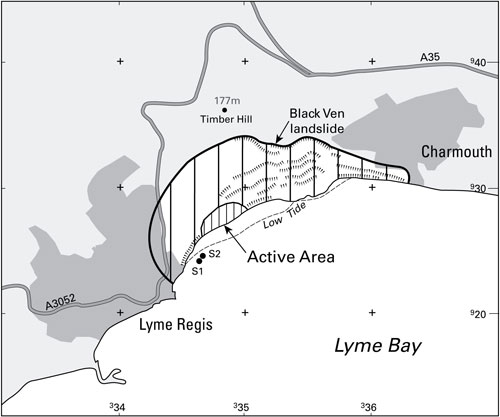 This landslide is part of the Black Ven landslide complex on the western Dorset coast, between Lyme Regis and Charmouth. This landslide occurred after a particularly wet period during winter and early spring.
We routinely send specialist staff to the scene of landslide events to collate data from landslides whilst they are relatively fresh and often active, offering invaluable information.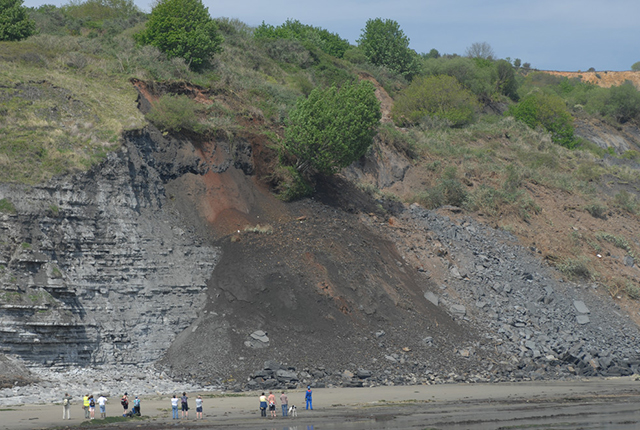 The landslide and geology
The principle failure involved material mainly from the Shales With Beef Member of the Charmouth Mudstone Formation. The main failure surface seemed to be at or just above the top of the Blue Lias Formation. The top of the Blue Lias cliff appeared to remain intact, with disturbed Shales With Beef material actively sliding over the vertical cliff onto the foreshore below.
The survey
The survey was carried out on 8 May 2008 from the rocky foreshore, approximately 200 m from the toe of the active landslide (marked as S1 and S2 on the Black Ven location map). A Riegl LPM-i800HA LiDAR scanner was used in combination with a Leica SmartRover differential Global Positioning System (dGPS). The scanner has a range of up to 800 m with an optimum survey accuracy of 15 mm, scanning at 1000 points per minute. In practice, the system, in combination with a high accuracy dGPS system, has proven to offer true survey accuracies of the order of centimetres at a range of up to 600 m, dropping to decimetres at the maximum range on surfaces with poor reflective characteristics.
You may also be interested in