BGS news
UK's new underground observatory open for research
The UK Geoenergy Observatory in Glasgow, which will give scientists an unprecedented look at the subsurface, holds its virtual opening.
07/12/2020
By BGS Press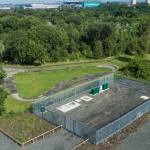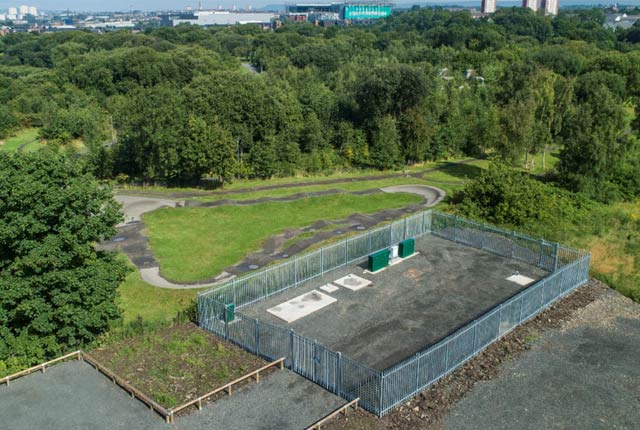 The UK Geoenergy Observatory in Glasgow, the first of two new underground laboratories that will give scientists an unprecedented look at the subsurface, had its virtual opening today, Monday 7 December.
The team behind the facility says it will contribute to the UK's ambition to decarbonise its energy supply and achieve net zero by 2050.
Scientists around the world are now invited to apply to use the facility from March 2021, in line with covid restrictions.
The Glasgow Observatory comprises 12 boreholes, which are 16-199m deep and fitted with 319 state-of-the-art sensors.
Data from the Glasgow Observatory will help scientists understand the subsurface better, and how heat using warm water from abandoned mines could be used as a renewable energy source for homes and industry.
A second observatory is planned for a site in Cheshire.
Central Scotland, northern England and south Wales all have flooded, abandoned mines that could be tapped to supply local communities or industry with heat.
One problem with the take up of geothermal has been the risk involved – uncertainty over the resource available, high initial costs and long-term investments.
The UK Geoenergy Observatories will address those risks by providing fundamental information about the subsurface.
Together, the observatories represent a £31 million investment by the UK government through the Department for Business, Energy and Industrial Strategy (BEIS).
They were commissioned by UK Research and Innovation's (UKRI's) Natural Environment Research Council (NERC) and delivered by the British Geological Survey (BGS), which will run the sites and manage their data.
The Glasgow Observatory was officially opened during a virtual event.
The Glasgow Observatory builds on the city's industrial past.

The data from Glasgow's abandoned mines will help us understand the processes and impacts of a mine water heat source and potential heat store as a sustainable way of heating homes and businesses in our cities.

Over the next 15 years, the network of boreholes will monitor any changes in the properties of the environment below the surface, and help close the knowledge gap we have on mine water heat energy and heat storage.

While today is the official opening, the Glasgow Observatory has been supplying scientists with open access data since drilling began in 2018.

There is no other publicly-funded observatory like this in the world, and it is very fitting that it is located in Glasgow, which will host COP 26 next year.

Dr Karen Hanghøj, Director of the British Geological Survey
The Glasgow Observatory is the first of our UK observatories that will create a high-resolution understanding of the underground system, providing a breakthrough in our knowledge of what lies beneath us.

Heat from mine water is one form of geothermal energy, and it has great potential to help the UK decarbonise its heat supply and meet net zero targets.

This £31 million investment is part of the UK's national capability for world- class science, and will give the government, industry and regulators the knowledge required to understand how our underground might be used to power the future.

As we approach the COP26 summit in Glasgow in November 2021, today's event demonstrates how UK research is bringing our communities together to create solutions to climate change and enable the UK to reach net zero by 2050.

Professor Sir Duncan Wingham, Executive Chair of the Natural Environment Research Council
It makes sense that the UK's first geoenergy observatory is in Glasgow, given Scotland's geology is world famous.

With the government's target of achieving net zero emissions by 2050, emerging low carbon technologies may offer the best solutions to shaping future energy policy.

This observatory will be absolutely key for scientists to advance the study of renewable energy and is a great example of how Scotland is leading the way in energy innovation and investigating the viability of alternative energy sources.

Professor Dame Anne Glover, President of the Royal Society of Edinburgh
The Glasgow Observatory has already released 19 open data packs, giving scientists access to borehole information including optical images from up to 199m underground, environmental monitoring data and live seismic monitoring. For more information, or to view the data from the Glasgow Observatory, visit www.ukgeos.ac.uk
Relative topics
Where is the Glasgow Observatory?
Map here
About the 12 boreholes
The boreholes range in drilled length from 16 to 199m. They have been positioned so that scientists can:
extract 180 m of rock core samples
build up an accurate model of the geology below
measure water temperature, flow and chemistry underground
model the underground water systems
measure the potential for mine water heat energy and heat storage
provide baseline information on soil and surface water chemistry and ground gases nearby
Video here: https://www.youtube.com/watch?v=gS2B3lBYdwI&feature=youtu.be
What information are the sensors collecting?
Seismic monitoring data since mid-2019
Available in 2021
Groundwater logger data (water level, temperature, conductivity)
Cross-borehole geo-electrical imaging baseline from electrical resistivity tomography sensors
Direct temperature sensing baseline from fibre-optic downhole cables
Scanning lasers monitoring near-surface CO2 and CH4, soil gas probes
Weather station
What is geothermal energy?
Visit the BGS website for more info and videos: https://www.bgs.ac.uk/geology-projects/geothermal-energy/
The British Geological Survey (BGS) and Coal Authority have released maps which, for the first time, reveal the extent to which heat is stored in Britain's abandoned coal mines.
https://www.bgs.ac.uk/news/new-maps-reveal-heat-stored-in-britains-abandoned-coal-mines/
What is net zero?
In 2019, the UK government became the first major economy to pass legislation committing to bring all greenhouse gas emissions to net zero by 2050.
Net zero means any emissions would be balanced by schemes to offset an equivalent amount of greenhouse gases from the atmosphere, such as planting trees or using technology like geothermal energy. Find out more here: https://www.gov.uk/government/news/uk-becomes-first-major-economy-to-pass-net-zero-emissions-law