A new digital planning tool is helping authorities to estimate the ground risk and cost of developing brownfield sites in Greater Manchester.
The Brownfields Ground Risk Calculator is designed to understand and communicate the scale of risk and cost associated with brownfield ground conditions.
It shows the scale at which potential brownfield sites are expected to be affected by soil or groundwater contamination.
It also evaluates geotechnical hazards, such as land stability and ground gases which can affect building design, and estimates the costs required to mitigate the risks.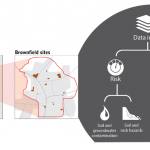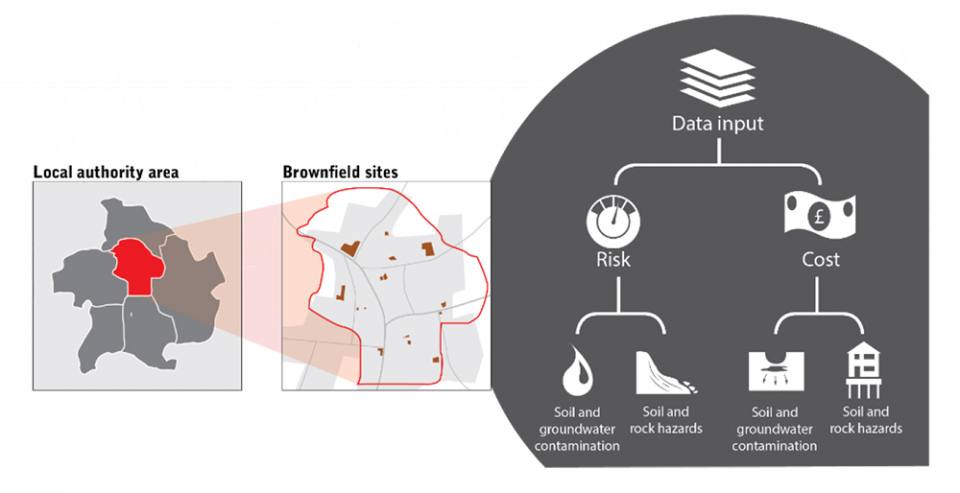 The calculator has been developed by scientists at the British Geological Survey (BGS) in collaboration with partners Greater Manchester Combined Authority (GMCA), Gateshead Council and the Environment Agency.
The tool supports a range of uses and the Environment Agency will use the calculator to contribute to its understanding of the scale of regulatory effort required for land contamination risk management by its staff, over the next five years.
BGS geoscientist, Dr Darren Beriro, says the tool has potential to help other local authorities in the UK to meet housing targets and protect green spaces more efficiently.
He said: "When developing post-industrial brownfield land, historic contamination often needs to be remediated to ensure the land will be safe, often at a significant cost to the developer or land owner.

"A closer look at brownfield sites in central Manchester for example, shows that some land is likely to be more expensive per hectare to remediate than others.

"We know that decisions made early in the planning process can affect the viability of building new homes. These are likely to be more critical given the potential impact of COVID-19 and the pandemic on budgets and the housing sector.

"By making the tool more widely available, we can help more public bodies, developers and land owners make informed decisions, early on."
The calculator works by using over thirty publicly available environmental datasets published by BGS, the Environment Agency and The Coal Authority.
The conditions it considers go beyond those expected for typical developments, and are referred to as 'abnormal'.
Using the data, it produces a 'ground risk score' and remediation cost estimate for each site, and presents it in a geographical information system (GIS).
Greater Manchester Combined Authority is working with the Greater Manchester Local Enterprise Partnership to support the 'Build Back Better' campaign, an initiative which sets out to build back the economy and create a better opportunity for a strong and successful recovery following the COVID-19 pandemic.
Murray Carr, Director of Land and Property for Greater Manchester Combined Authority, said:

"We have over 4,000 development sites in our existing housing land supply pipeline and a significant majority are on previously developed brownfield land and in sustainable locations. Due to the industrial legacy, there will be sites with contamination challenges.

"Assessing the viability of brownfields sites and likely risk from contamination will support the delivery of new homes across Greater Manchester, our partnership working with Homes England, the development industry and regulators such as the Environment Agency."

"Our strategy centred on the creation of new homes and regeneration in places such as town centres is more than bricks and mortar. It's about reducing inequalities, improving the lives of our residents, and post COVID-19 it's building upon existing work to help us all to 'build back better'."
More information about the Brownfields Ground Risk Calculator can be found on the BGS website.
Relative topics
For further details or to arrange media interviews please contact:
Hannah Pole, British Geological Survey Press Office, Keyworth, Nottingham, NG12 5GG
Mobile: +44 (0)7565 297 132
Notes for Editors
A brownfield site is an area that has been used before and is typically disused or derelict land. Such sites are usually abandoned areas in towns and cities which have been used previously for industrial and commercial purposes.
 Historical industrial processes often produced harmful by-products, residues and wastes that were poorly managed. The chemicals contained in these legacy materials can threaten human health and the environment.
Examples of land uses highly likely to have resulted in contamination include chemical works, landfill sites and textile mills.
Natural as well as artificial ground conditions can also affect land stability and ground gases. Particularly at former coal mining areas and landfill sites, where these can cause subsidence and damage to buildings.
Other natural conditions that can affect ground stability are taken into account (e.g. landslides and compressible ground).
The calculator divides each brownfield site is divided into 50 x 50 m grid cells. It determines whether a risk is present or absent and assigns predetermined score to each grid cell. The results are presented for each grid cell and at a site scale.
Information and examples of the Brownfield Ground Risk Calculator can be found on the BGS website here.
The following are available for interview: Dr. Darren Beriro, BGS
British Geological Survey
The British Geological Survey (BGS) is a world leading applied geoscience research centre that is part of UK Research and Innovation (UKRI) and affiliated to the Natural Environment Research Council (NERC). BGS core science provides objective and authoritative geoscientific data, information and knowledge to inform UK Government on the opportunities and challenges of the subsurface. It undertakes national and public good research to understand earth and environmental processes in the UK and globally. Please see www.bgs.ac.uk.