BGS news
New method developed to identify wetland inhabitants
BGS-led research has helped develop a method to identify ancient human and animal wetland inhabitants.
01/11/2023
By BGS Press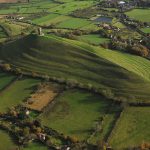 A team of isotope scientists from BGS, along with Cardiff University, has led research that has developed a new analytical method to identify archaeological remains of humans and animals that once inhabited wetlands. The method provides an additional tool for archaeologists to explore human and animal mobility in the past.
Identifying human and animal movement has long been an important pursuit in archaeology. Isotope analysis provides direct data for this and is helpful in identifying non-local individuals and patterns of migration.
Our aim was to test the hypothesis that certain underlying rock types will produce low sulphur (sulfur; S) isotope values, which are transferred through the food chain and could therefore provide a means of identifying humans and animals raised in wetlands in the past.

Angela Lamb, BGS Isotope Geochemist.
The new research explored the potential of previously undiagnostic low, often negative, S-isotope values to identify wetland dwellers. This was carried out by testing the hypothesis that impervious clays, which often support wetlands, will produce low S-isotope values due to both the underlying substrate and redox conditions.
Collecting samples
To characterise the modern S-isotope biogeography of typical wetland environments, the researchers collected and analysed 58 modern plant samples taken from areas overlying Jurassic rocks in southern England. The sampling targeted archaeologically important areas of the Somerset Levels and the Cambridgeshire Fens. S-isotope ratios were also extracted from the bone collagen of 65 faunal fossil samples from archaeological sites in both regions and analysed to compare with modern data and test if this relationship held for archaeological samples. To understand if the plant signals were transferred up the food chain to the fauna, S-isotopes in modern bone collagen, extracted from nine farm animals raised in these areas, were also analysed.
An additional tool for archaeologists
Of the samples tested, 60 per cent gave a value below zero, with the modern plant datasets giving more negative values for the eastern regions of Cambridgeshire relative to Oxfordshire and Somerset. The plants showed a correlation between S-isotope composition and altitude, which supports the idea that low-lying wetlands supply the most negative values into the environment.
These results support the interpretation that relatively low or negative S-isotope values are indicative of vegetation and wildlife growing and grazing on wetland regions underlain by Jurassic clays. Data from this study formed part of a new BGS isotope domain map (see Figure 1).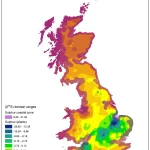 Further work is needed to resolve regional differences in the altitude below which low S-isotope values occur and to understand S-isotope variability in higher altitude locations on the Jurassic clay, but this is a step forward in our understanding and therefore the application of low S- isotope ratios.

Angela Lamb
As a result, ancient humans and animals from wetlands, or that acquired their food from wetlands, may be identified using primary analytical methods. This provides an additional tool for archaeologists to explore animal management and human and animal mobility in the past.
More information
Read the research: Wet Feet: developing sulfur isotope provenance methods to identify wetland inhabitants
Evans, J A, Chenery, C A, Mee, K, and Marchant A P. 2023. Biosphere Isotope Domains GB (V2) [interactive website]. Available at https://www.bgs.ac.uk/datasets/biosphere-isotope-domains-gb/
Relative topics