BGS news
New book launched on groundwater in Northern Ireland
BGS and the Geological Survey of Northern Ireland (GSNI) have launched a new book and map on Northern Ireland's groundwater.
30/10/2023
By BGS Press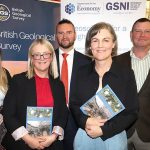 On 18 October 2023, the Geological Survey of Northern Ireland (GSNI) launched a new book and digital aquifer map, 'Northern Ireland's Groundwater Environment', alongside BGS.
Groundwater is the water that is present beneath the land surface in pore spaces and fractures in rock. The book presents a regional overview of the current understanding of Northern Ireland's groundwater environment, hydrogeology and groundwater resources.
A new digital aquifer map of Northern Ireland has also been released alongside the book. The map contains 11 different aquifers (bodies of groundwater); each aquifer has different characteristics such as how groundwater flows through it and the groundwater chemistry.
It's wonderful to finally launch this book and map. Northern Ireland has some excellent groundwater resources that we get to showcase in the book and map, which will continue to support our society and economy. We anticipate that these products will support a new wave of groundwater development that will benefit Northern Ireland and the UK.

Paul Wilson, BGS Hydrogeologist.
BGS Hydrogeologist Paul Wilson and Brighid Ó Dochartaigh, BGS Senior Hydrogeologist, co-wrote the book with Dr Mark Cooper, GSNI Chief Geologist, and Rebecca Ní Chonchubhair, GSNI Hydrogeologist.
The book aims to help stimulate further interest in groundwater as a critical natural resource that used for public and private water supply. It also provides support for further development of groundwater resources in Northern Ireland, including new groundwater and geothermal energy supplies, and improved hydrogeological risk and environmental impact assessments for new developments.
Relative topics