BGS news
Dr Gavin Mudd appointed director of the UK Critical Minerals Intelligence Centre
Dr Gavin Mudd brings with him expertise in sustainable mining, environmental impacts and management of mine waste.
19/10/2023
By BGS Press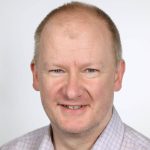 BGS has appointed Dr Gavin Mudd as director of the UK Critical Minerals Intelligence Centre (CMIC).
Gavin will oversee the delivery of evidence-based analysis and intelligence regarding the supply and demand of critical minerals, to guide decision-making by Government and industry to mitigate risks to the security of critical mineral supplies.
Gavin is relocating from Australia, where he held the position of associate professor in the Department of Environmental Engineering at RMIT University. He will take up his new post at BGS on 20 November 2023. Gavin's research interests include environmental impacts, management of mine wastes, acid mine drainage, sustainability frameworks, life-cycle assessment modelling and mine rehabilitation.
I am very excited to be joining BGS as the director of the Critical Minerals Intelligence Centre at such a crucial time — the growth of renewable energy, electric vehicles and energy storage batteries to help mitigate climate change as well as the plethora of other global challenges. The global transformations underway rely on sound geoscience and, in particular, understanding the sustainability of our global mining supply chains as well as the need to move to a more circular economy. CMIC at BGS is perfectly placed to support the UK and collaborate globally to pursue these goals.

Dr Gavin Mudd, CMIC Director.
On behalf of BGS and the BGS Board, we are delighted to welcome Gavin as director of the UK Critical Minerals Intelligence Centre. Gavin brings to the role a wealth of experience and a passion for industrial ecology and sustainable mining practices. He will be vital in developing and strengthening the centre further to support the UK's transition to a greener, more sustainable economy.

Dr Karen Hanghøj, BGS Director.
CMIC, which is led by BGS with support from the Department for Business and Trade, supports the UK in securing adequate, timely and sustainable supplies of the minerals and metals it requires to transition its economy in the coming decades to net zero emissions.