Key information
Scale:
400 m flight line separation
Coverage:
North Midlands of England into Welsh Borderland
Format:
ASCII text records and GeoTIFFs
Uses:
Local-level to regional-level use
The BGS and World Geoscience Corporation Ltd (WGC) collaborated on survey flying for the high-resolution geophysical and environmental survey, which was completed in 1998.
The data comprises multichannel gamma ray spectrometer, magnetometer and dual-frequency VLF-EM. Flight-line spacing was 400 m with tie lines at 1200 m. The total area surveyed was some 14 000 km2. Flight-line orientations were west to east over the western survey area and south-west to north-east over the eastern area. Ground clearance was maintained at 90 m in rural areas, increasing to about 240 m in built-up zones.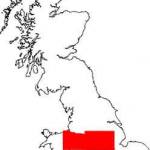 You may also be interested in: