BGS blogs
BGS receives silver LEAF accreditation for sustainable practices
The accreditation is a standard awarded to laboratories that can demonstrate practical steps towards improved efficiency and sustainability.
12/07/2022
By BGS Press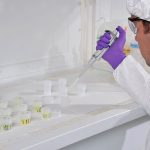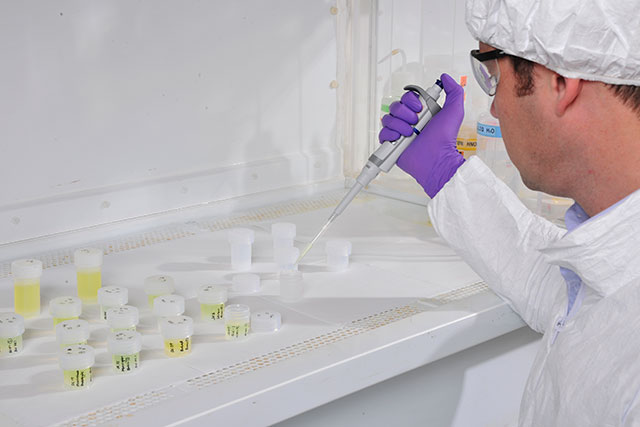 BGS has attained silver LEAF status for sustainable laboratory practices.
Laboratories are integral to the work undertaken at BGS, from core scanning to mass spectrometry work. The LEAF (Laboratory Efficiency Assessment Framework) accreditation is an independent standard that is awarded to laboratories that can successfully demonstrate practical steps towards improved efficiency and sustainability.
BGS's laboratories received the second-highest level of certification for following best practice in laboratory sustainability, including waste management, increased energy efficiency and recycling.
As some of our labs include large specialist infrastructure, there are limitations on what can practically be made more sustainable, but we are committed to doing as much as we can to invest in green energy solutions.

This includes researching and implementing the sustainable use of accessories such as IT equipment, consumables, waste streams and reducing the energy requirements for laboratory heating and cooling.

Leah Crosby, BGS Energy and Environmental Advisor
It is estimated that, on a global scale, laboratories are responsible for around two per cent of global plastic waste and use three to ten times more energy than a typical office, according to University College London, which developed the LEAF initiative.
To achieve the award, 16 laboratories across BGS were audited, including engineering geology and thin sections as well as traditional wet chemistry laboratories, which were required to meet a set of criteria.
Attaining LEAF accreditation is an important factor in our organisation's transition towards net zero and part of the British Geological Survey's Environmental Sustainability Strategy.

We have increased our use of supplier recycling schemes such as zero waste boxes for disposable gloves, disposable lab coats and soft plastics.

We are also looking to reduce the number of plastics coming into BGS, rather than just recycling these products.

Nicola Atkinson, BGS Isotope Support Scientist.
The initiative was led by Leah Crosby, BGS's energy and environmental advisor, and Angela Lamb and Nicola Atkinson, both of whom work within the BGS laboratories.
BGS is now on course to apply for the gold LEAF accreditation, in line with its environmental sustainability targets.
Relative topics