BGS news
BGS Digital data review 2021–22
BGS is seeking a comprehensive understanding of the data ecosystem in which we operate, providing a detailed assessment of our current operating models and the options for our target operating model over the next 10 years.
18/06/2021
By BGS Press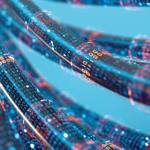 BGS produces a wide range of data that helps to improve understanding and communication of the impact of geo-environmental properties and hazards in Great Britain, thereby improving society's resilience and enabling people, businesses and Government to make better-informed decisions. These are provided under a balanced portfolio of open data and commercial licensing of our premium products. This approach ensures a sustainable platform to support the development of datasets and services while making our data as widely accessible as possible.
We need to continue to listen and review how we provide our data in the most effective way to maximise its potential use and ensure that users capitalise on the resources available from BGS. To help us understand how best to do this, we are investing in a comprehensive review of our digital data business operations.
Why we are reviewing our digital data business operations
BGS is a data-rich organisation. We house an enormous amount of globally significant data, collections and information because of our heritage, research activity and contributions from the wider geoscience community. The range and quantity of our data and collections have continued to expand over decades, along with the continued need to ensure there are the correct resources to support their preservation and global access to them.
As technology rapidly develops, we must harness our potential to gather, combine and disseminate data in the most effective ways possible. BGS is instrumental in supporting a wider, multi-agency approach to address industrial and societal needs, most importantly in dealing with our changing environment.
Our vision
Our vision is to create a digital-first geoscience organisation, linking people, data, equipment and technology to make new inferences about the world around us and accelerate scientific discovery. We have a strong track record of producing innovative technological solutions to geoscience problems and early adoption of emerging technology.
We strive to be the partner of choice for geological research and innovation within our user community. We have many success stories, including providing online access to over one million borehole logs and the development of bespoke data products.
Objective
Our objective is to gain a comprehensive understanding of the data ecosystem in which we operate, providing a detailed assessment of our current operating model and the options for our target operating model over the next 10 years.
To achieve this, we have completed a comprehensive series of stakeholder engagement projects – including online surveys, focus groups and 1-to-1 interviews – to understand what our external partners want from BGS digital products, to capture best practice and to understand how users wish to access and interact with our services. The responses received are helping us understand the wider impact and importance of BGS data and providing an important assessment of our data users' needs both now and into the future.
Who is this data review relevant to?
Given the focus of the consultation, we consider it to have particular relevance to:
our active data-user base, including our open-data users, data licensees, data reseller partners and organisations that interact with the NGDC
all levels of local government, including county councils, unitary and other local and combined authorities
devolved governments, government departments, non-departmental government bodies and other public sector agencies
environmental planners, engineers, architects, consultants and technical specialists
the infrastructure sector, including transport, energy and other utilities
startups and small businesses, especially those currently struggling to access and use geoscientific data in their processes
technology and data-driven or data-rich companies, and their investors
academia and the research sector, including UKRI agencies and universities
international data agencies, geological surveys and governance bodies
When will the outcome be announced?
The consultation period closed at the end of 2021. We are currently working with an external consultancy to help us consolidate the stakeholder feedback, using it to build and articulate a series of target operating model scenarios. In turn, these will be presented, discussed and refined through a number of internal workshops during the Summer of 2022, with the aim to reach an agreed operating model and work towards implementation later in the year.
Interested?
If you wish to hear more, please contact us at digitaldata@bgs.ac.uk.
Relative topics