On 21 October 1966, the worst mining-related disaster in British history took place in Aberfan, a small village in South Wales.
This harrowing and tragic event started when the nearby colliery ran out of tipping space in the valley floor in 1916. A total of seven tips were then constructed on the hillside overlooking Aberfan village, containing 2.1 million m3 of colliery spoil.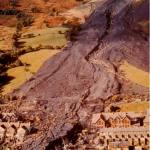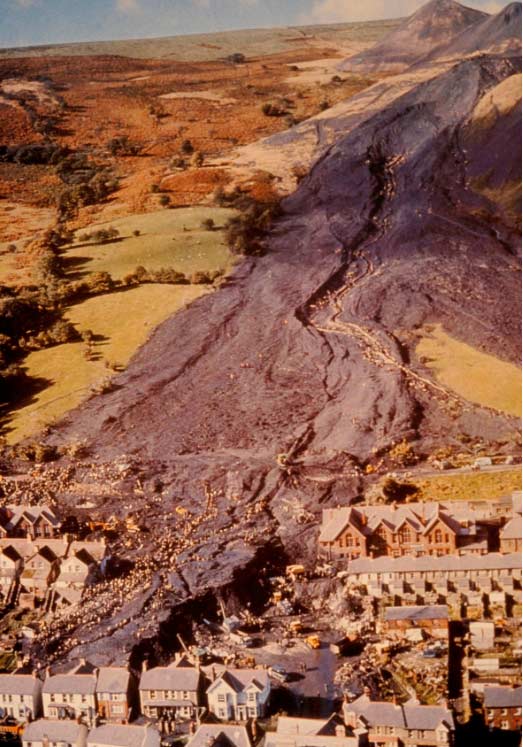 Only one of these tips — Tip 7 — was active at the time of the disaster in 1966. It started to move before 07:00 and it was this tip that collapsed with a deafening roar, avalanching into the village.
The mountainside farmhouse and cottages at Hafod Tanglwys Uchaf lay directly in the path of the slide and were wiped off the map, killing everyone within. One hundred and seven thousand cubic metres of black slurry then hit the disused canal, fracturing the water main that had been laid along it, and leapt over the old railway embankment.
Once in the village, the landslide destroyed 18 houses, Pant Glas Junior School and part of the neighbouring County Secondary School, before finally coming to rest on the Aberfan Road at 09:15.
The last child brought alive from the filthy morass emerged at 11:00. Bodies continued to be found days later. In total, 144 lives were lost, 116 of them children aged mostly between seven and ten who died in their classrooms on the last day before half term. One hundred and nine perished in the junior school. Of the 28 adults who died, five were primary school teachers.
Ted Nield from the Geological Society describes the series of events that led to the disaster at Aberfan in his publication Tipping Point in GeoScientist magazine, published 50 years after the event.
The Aberfan landslide is National Landslide Database ID 3176/1.
How has this changed the industry?
Paul Maliphant, Helen Reeves, Bob Leeming and Darren Bryant revisit Aberfan and explain what has happened since the tragedy and how the industry, legislation and the science of engineering geology has moved forward to ensure this is never repeated.
You may also be interested in