BGS blogs
The Prees Borehole and the JET Project
A recent borehole in Shropshire is unearthing new information about the chronology and environments of the Early Jurassic.
24/02/2021
By BGS Press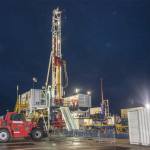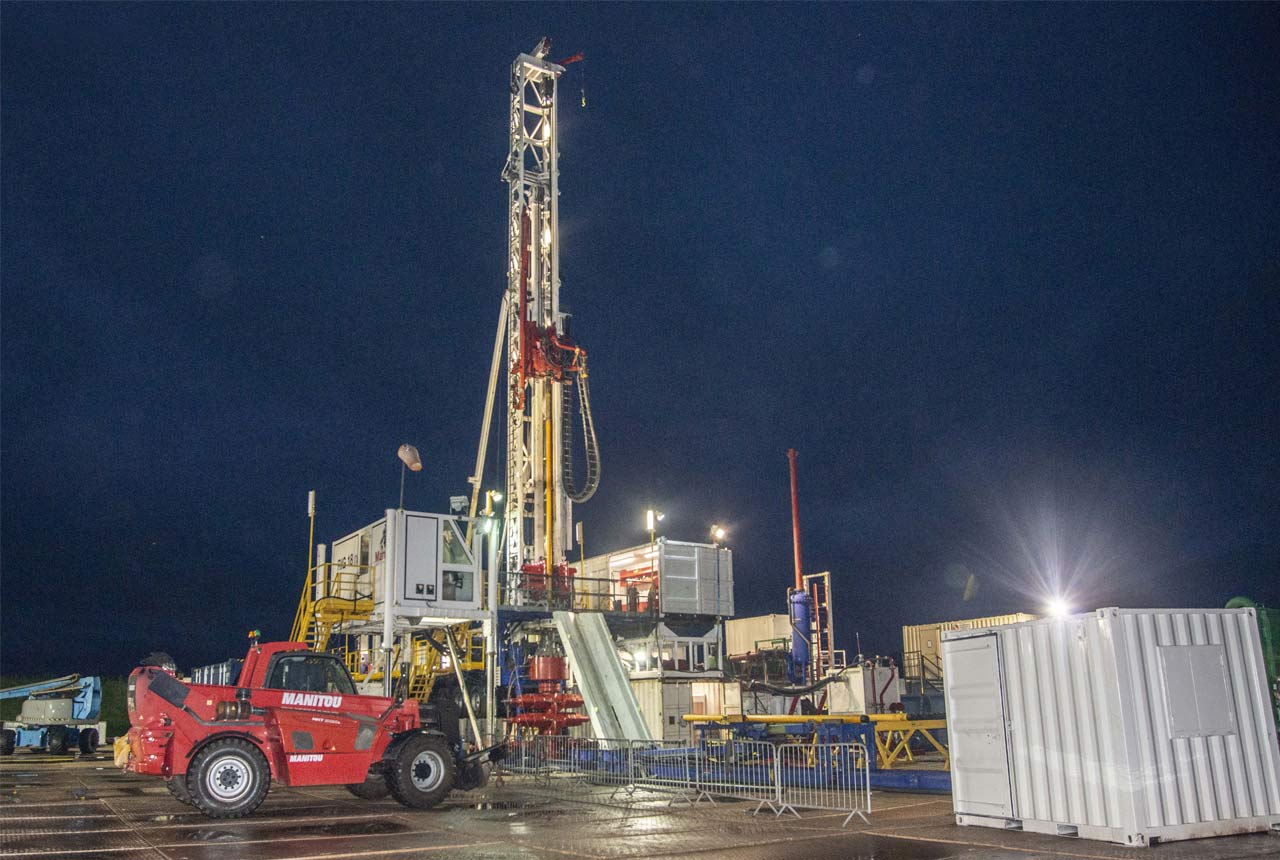 During November and December 2020, a deep borehole was drilled just off the A49, around a kilometre north of the village of Prees, south of Whitchurch in north Shropshire. The JET project science team behind this project, of which I am a member, needed to obtain a continuous core of Early Jurassic rocks in order to decipher the chronology and environments of the early part of the Jurassic Period between around 201 and around 174 million years ago.
The Early Jurassic was a fascinating epoch in the history of our planet. It was a greenhouse interval with no permanent polar ice, characterised by some major changes in the global carbon cycle. We believe that these events were mainly driven by greenhouse gases emitted by large pulses of volcanic activity.
These intervals of global warming caused substantial climatic and environmental shifts. The most dramatic of these led to a marked increase in surface water fertility and blooms in plankton populations making widespread areas of the ocean floors devoid of oxygen around 183 million years ago.
It is really important to understand all aspects of these climatic perturbations in the geological record, not least the timing of them. We are currently of course experiencing a changing climate and it is imperative that we know the timings of the onset, overall duration and recovery of fluctuating environments on our planet based on past events. It is hoped that this will help us understand what may be happening right now. We aim to help to do this by working out the astrochronology of the Early Jurassic rock record. To do this we will attempt to decipher three different cycles of sedimentation which were controlled by regular rhythms of the Earth's orbit around the Sun. If we can work these cycles out effectively, using techniques such as detailed geochemistry and geophysical logging, we can use the number of cycles to determine how long it took to deposit the rock succession being studied, as well as the durations of the environmental shifts. We will also work on the environments based on aspects such as fossils and sedimentology.
The geological picture
In the UK we are fortunate to have some fantastically complete and well-preserved successions of Early Jurassic sedimentary rocks and therefore we can study Early Jurassic environments in great detail. So, a number of interested researchers put together a proposal and applied for grants from the Natural Environment Research Council (NERC) and the International Continental Scientific Drilling Program (ICDP) based on a new borehole at Prees and an existing borehole drilled by BGS at Mochras in west Wales in the late 1960s. NERC and ICDP accepted our proposals and we began to plan for the Prees Borehole in the spring and summer of 2018. The science team came up with a project name of Early Jurassic Earth System and Timescale, abbreviated to JET. This latter acronym pays homage to the famous black gemstone from Whitby that is found in Early Jurassic rocks.
@JET_Prees scientists turned up an example of Teichichnus in the core for #FossilFriday! @icdpDrilling Prees coring is progressing well and we look forward to more #Jurassicrocks Photo credit: Jim Riding pic.twitter.com/n5oQSswsz3

— JET Project (@JET_Prees) December 4, 2020
Planning the drilling operation
We knew from legacy BGS geological mapping and two old boreholes in the vicinity that there is a really good Lower Jurassic record around Prees, so the search was on for a good site. It had to be accessible in terms of getting the borehole infrastructure set up easily, and be as far away from houses as possible because boreholes can be quite noisy! A site was found: a small corner of a farmer's field, close to a main road. The science team also had to find a drilling contractor so a tendering process was instigated. As you can imagine, processes such as landowner negotiations, planning permission, tendering, etc. are relatively far from the normal day-to-day activities of a geologist's working life!
The drilling operation
When all this was complete, we could finally start the drilling operation at Prees. There were a few relatively minor delays, and the pandemic did not make things easier, but we finally began to drill in early November 2020. The drilling rig was a relatively large one and it used core barrels six metres in length. A continuous core was drilled using a rotating drill string and the core barrel was brought to the surface using a steel cable when it was full, which normally took around six hours.
Teams of two geologists worked 12-hour shifts round the clock and seven days a week throughout the two month drilling operation. The geologists curated the core, which meant cleaning it, describing it, labelling the depths, way-up etc. and carefully placing it in one-metre core boxes for transporting back to the BGS core store at Keyworth. We halted drilling on 29 December 2020 and the borehole was terminated at 656 m. The 'terminal depth' was in the Late Triassic, which meant that our objectives of drilling through the Early Jurassic had been fulfilled.
The first test shallow geotechnical Jurassic aged core from Prees! @JET_Prees pic.twitter.com/Z6udYU4Bac

— Prof Melanie Leng (@MelJLeng) January 28, 2020
The JET project science team will now begin to study the Prees Borehole in detail. We will be putting the one-metre core sections through a core scanner to analyse the overall geochemistry. Samples will also be analysed for carbon isotopes to reconstruct changes in the carbon cycle throughout the Early Jurassic. Other highlights include examining clay minerals, magnetic field reversals, sedimentary structures and detailed studies on the fossils in the core especially ammonites, microfossils and trace fossils.
The JET project is primarily funded through a NERC Large Grant led by Prof Steve Hesselbo of University of Exeter.
Relative topics