Overnight on 14 August 2017, heavy rain affected the capital city of Sierra Leone, Freetown. On 15 August a landslide was triggered in the Regent area and the runout travelled six kilometres to the sea. A national emergency was declared, with a death toll of around 500 people, more than 3000 left homeless and hundreds of buildings damaged or destroyed.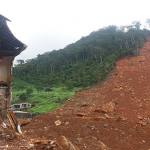 On 16 August, the BGS was contacted by the United Nations Institute for Training and Research (UNITAR) and their Operational Satellite Applications Programme (UNOSAT) to provide support and geohazard advice during the emergency situation. We provided advice on the effects of the main landslide and the potential for new landslides to occur. The UN had activated the UN Charter on Space and Major Disaster, on behalf of the Food and Agricultural Organisation (FAO) Sierra Leone Office and the UN Country Team, to acquire satellite imagery to help understand the situation. On 18 August they provided the BGS with high-resolution imagery (acquired by satellite on 15 August), and on the same day we produced a map outlining the main landslide and the runout to the sea. We also identified two additional landslides in the hills above Freetown.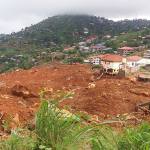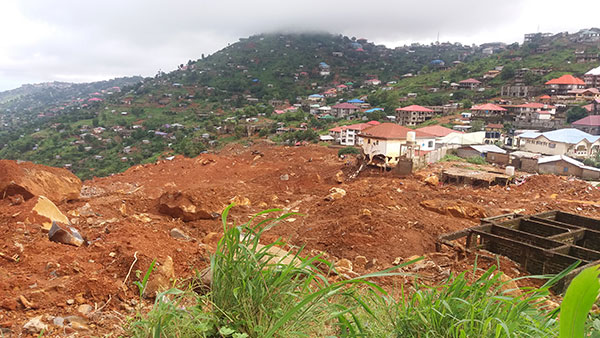 Our map was made widely available online and also presented by FAO to the coordination meeting of the Office for National Security (i.e. the National Situation Room), to the Cabinet and to the President. The map was also published on ReliefWeb, which is the leading humanitarian information source on global crises and disasters.
An additional image was acquired by satellites over Freetown on 18 August. The image was affected by clouds, but the BGS identified no additional landslides in the cloud-free areas.
In addition to the advice and maps derived from satellite imagery, BGS staff also undertook reconnaissance surveys in Freetown to better understand the highly dynamic geological processes. (photos by Kathryn Goodenough and Lorraine Field).
Follow-up investigations made by David Boon, Colm Jordan and Simon Kemp, for the UNOPS with collaborators form ARUP (UK), are published in the Quarterly Journal of Engineering Geology and Hydrogeology.