BGS blogs
Sampling salt marsh sediments: a Thames microplastics fieldtrip
Megan Trusler gives an overview of her PhD project, which studies the role salt marshes play in the accumulation and transport of microplastics.
15/08/2022
By BGS Press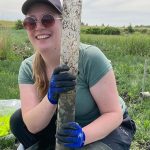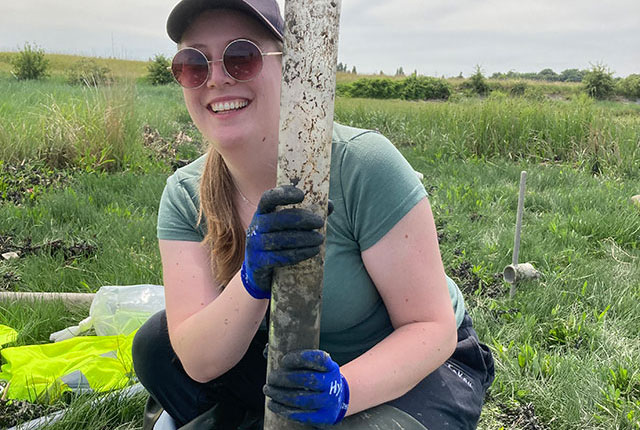 Plastics were first popularised in the mid-twentieth century and have since become an integral part of our everyday lives. The versatility of plastics means that they can be moulded into almost any shape or size and have a range of uses. They can be dyed many colours, made to be waterproof and are generally very durable. However, this also means that they do not break down very easily once used, resulting in the accumulation of plastic debris within the environment. As they are slowly weathered over time, they produce 'microplastic' particles (plastic particles less than 5 mm in size), which have been found in a range of habitats and organisms around the world.
Why study salt marshes?
Urban river estuaries are recognised as key microplastic transport corridors, connecting terrestrial sources of microplastics to marine sinks. Coastal intertidal zones (salt marshes and mudflats) are known to accumulate many different anthropogenic pollutants, but their role in the accumulation and transport of microplastics remains understudied. In a collaboration between BGS and the University of Nottingham, my PhD project aims to understand how salt marshes along the Thames estuary (England, UK) store and interact with microplastics, explaining the key processes that control their accumulation and release. This insight will provide a more holistic view of microplastic particles' behaviour and their migration through estuary corridors.
The fieldtrip
For the project to meet its aims, Dr Chris Vane (BGS) and I undertook a fieldtrip to the Thames estuary in June 2022. We visited two salt marshes: Rainham Marsh on the northern shore in Essex and Swanscombe Marsh on the southern shore in Kent. The trip proved to be very successful and we got incredibly lucky with some sunny weather too!
We needed a transect of samples running perpendicular to the shoreline and across each vegetation zone at each salt marsh, so we could explore the relationship between different salt marsh conditions and the microplastic distribution. By coring to a depth of 50 cm, we also hoped that we could capture a temporal record of microplastics for these marshes. The cores may show that microplastics are not stored within sediment layers at all; rather, particles could be retained in the active surface layer of sediment, or they may be stored for shorter temporal periods.
We successfully obtained a total of eight 50 cm cores, as well as a number of salt marsh surface samples that will be used to further investigate microplastic variation spatially across the marshes. The samples obtained on this fieldtrip will complement those taken during a previous fieldtrip in February 2022, which sampled sites in the more urban, London regions of the Thames and its tributaries.
Studying the samples
Back in the laboratory, the cores have been separated into 10 cm sections and freeze-dried to preserve any temporal variation in microplastic abundance. I will now process them using a series of steps to quantify the microplastic particles within each sample. In time, the data collected during this project will make it possible to understand the role of salt marshes in the storage and transfer of microplastics within estuary corridors.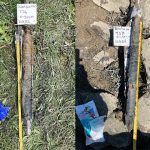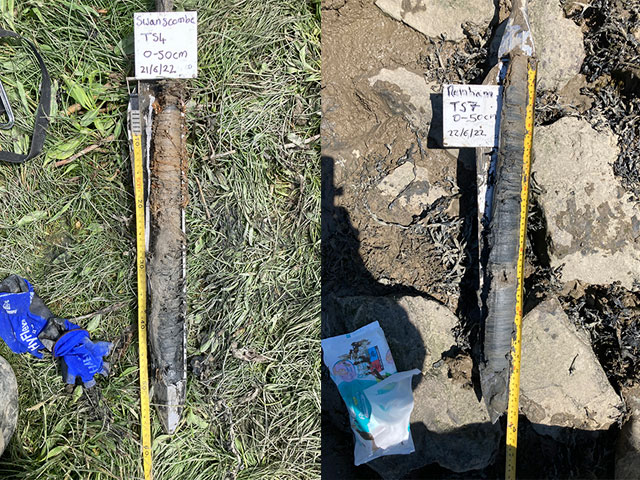 About the author
Megan Trusler is a PhD student at Nottingham University, studying salt marshes along the Thames estuary and how they interact with microplastics.
Relative topics