BGS news
BGS welcomes two new board appointments for 2022
BGS today welcomes two new non-executive directors to the BGS Board.
25/01/2022
By BGS Press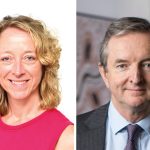 Joanna (Jo) Coleman OBE, Shell's UK energy transition manager, and Simon Thompson, chairman of Rio Tinto plc, will take up their positions on the BGS Board from 1 March 2022. Both bring extensive strategic leadership skills and global business experience in earth sciences to support BGS in meeting the challenges it faces and enhancing its position as a globally leading geological survey.
They succeed Olivier Peyret, chairman of Schlumberger France, and Prof Richard Williams, principal and vice chancellor of Heriot-Watt University, who will step down from the BGS Board at the end of February, having served since its formation in 2018.
Jo Coleman OBE
Jo has over 30 years' experience in the energy industry. In the last 10 years, she has focused on energy transition strategies and innovation, working with both the private and public sectors, including a period as strategy director at the Energy Technologies Institute.
Simon Thompson
Simon brings a wealth of global experience in the natural resources industry, having held numerous executive and non-executive positions in this sector during his career. Under his chairmanship, Rio Tinto has put in place a clear strategy to decarbonise its business and focus on producing the materials essential for a low-carbon future.
The BGS Board
The BGS Board works closely with the BGS Director, Dr Karen Hanghøj, and the executive chair of the Natural Environment Research Council (NERC), Prof Sir Duncan Wingham.
I am pleased to welcome Jo and Simon to the BGS Board. Their extensive experience and expertise will enable BGS to continue to deliver its mission and role as an impartial provider of geoscience for the public good both in the UK and overseas, particularly in the drive towards net zero.

I would also like to thank Olivier Peyret and Richard Williams for their service and commitment to BGS since 2018. Their contribution has been invaluable.

Sir Keith O'Nions, Chair of the BGS Board.
Jo and Simon have proven track records of leading strategy and change in sectors critical to the net zero agenda. They will bring fresh challenges, thinking and perspectives to our business, particularly as we develop our new science strategy in 2022, using our research and data to inform and support policies to tackle climate and environmental change.

Dr Karen Hanghøj, BGS Director.