The card catalogue records items added to the BGS Library service from 1970 to the mid 1980s, when the computerised catalogue ENVIROLIB began. We have undertaken a continuous programme of adding older records to ENVIROLIB and in many cases, the older card catalogue has not been amended. When undertaking a search, users should check the current online catalogues before checking the card catalogue.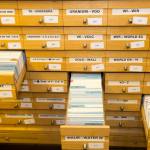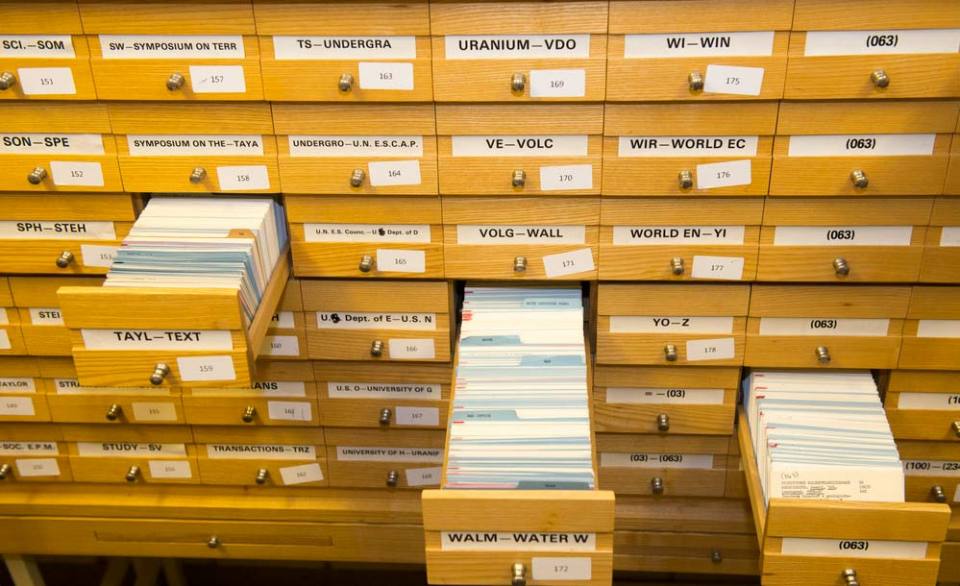 When using the online card catalogue:
Records may be found for the same item in both the online catalogue ENVIROLIB and the card catalogue. In these instances, the ENVIROLIB entry will be the current record.
The card catalogue may indicate BGS locations that no longer exist. In the vast majority of cases, the primary location will now be BGS Keyworth.
The card catalogue may contain entries for items that have been lost or withdrawn from stock, though in most cases the library at BGS Keyworth will hold the central copy.
In all instances, please check with the BGS Library staff to confirm a location, or prior to any personal visit to the BGS Library to consult an item.
Many entries have multiple cards per full entry. There is usually a 'Cont. on next card' statement on the lower left of the card indicating this.
Card colours:

white: books and monographs
blue: journal articles
pink: analytical entries from books (e.g. individual articles from conference proceedings)
How to use the BGS Library card catalogue
Select a sequence, then select from the choices presented. Links will take you to the card catalogue viewer, which will display the first card.
There are display options (single card, two card and multiple card views) and navigation and zoom tools in the bottom right of the viewer.
The slider bar at the bottom of the page allows you to rapidly browse through the full tray of card images.
Contact
Please contact BGS Library for more information.
The card catalogue consists of two sequences
You may also be interested in