The BGS Remote Drill Two, RD2, is our most advanced seafloor robotic drilling and coring system. It can penetrate up to 50m below the seabed, operate down to water depths of 4000m, and can drill and core a wide variety of lithologies ranging from consolidated sediments to hard igneous rocks. We have used our long experience of seafloor sampling equipment to combine established wireline drilling technology with remotely operated vehicle (ROV) systems and a custom-designed frame to produce a compact and versatile system that can be used for a wide range of scientific and commercial drilling applications across the globe.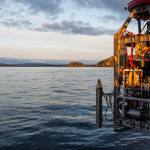 RD2 uses a triple wall wireline drilling system that can continuously core in 1.72m sections with a core diameter of 61mm, down to a maximum depth below the seafloor of 50m. The on-board tool rack has capacity for up to 35 core barrels, 30 drill rods and up to 2 spare bottom-hole assemblies (BHAs). The system also has the potential to drill boreholes for other purposes including the installation of long-term monitoring equipment such as seismometers and magnetometers.
RD2 is controlled from a dedicated 20' control cabin using industry-standard telemetry and power transmission technology. A 3000V 75kW subsea motor powers the on-board hydraulics, which operate the robotic tool arm and top-drive drill motor. The subsea hydraulics is optimised to use low volumes of environmentally sensitive oil. The system is fitted with a wide range of cameras and sensors to aid drilling operations and to provide additional scientific data. There are 12 cameras on board with 6 live feeds, as well as a CTD, water sampler, altimeter and a real-time 3D imaging sonar. A suite of downhole logging tools is available and custom scientific payloads can be fitted as well.
RD2 comes with its own dedicated launch and recovery system (LARS), including an A-frame and 4000m umbilical winch. The fully containerised system is relatively lightweight compared with other seafloor drills, and can be transported by standard sea freight or road freight for rapid mobilisation on a wide variety of ocean-going research and supply vessels in order to undertake operations across the globe.
RD2 has been used on many ambitious and varied scientific coring projects, obtaining cores from over 40m below the seabed. Projects have included sampling gas hydrates in the Sea of Japan, researching Seabed Massive Sulphide (SMS) mineral deposits at 3550m below sea level in the mid-Atlantic, obtaining cores on the Atlantis Massif for the Integrated Ocean Drilling Program (IODP) and most recently coring pockmarks in the North Sea to further the understanding of potential leakage pathways from carbon storage reservoirs as part of the EU-funded STEMM-CCS project.
Relative topics
RD2 brochure – technical and operational details
Recent Marine Operations offshore projects
Need more information?
Please contact the Marine Operations team or, if you have a specific project in mind, fill out a questionnaire.
You may also be interested in: