The unique BGS combined rotary rock drill and vibrocoring system, RD1, offers the versatility of two sampling systems on one rig. The system was developed in-house and builds on our long and successful track record of recovering high-quality rock and sediment samples from various environments. Having two coring modes has the advantage of mobilising one system for a project that allows both hard rock (5m maximum) and soft sediment (6m maximum) to be sampled using the same system. The system can be operated in up to 2000m water depth.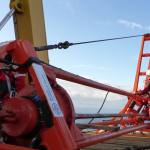 When operating as a vibrocorer sediments are collected in an 81mm diameter plastic liner tube within a 6m long core barrel driven by a one tonne weight and vibrator motor (hence the name vibrocorer) mounted at the top of the rig. Core retention is aided by a guillotine closure below the core barrel during recovery of the equipment.
Hard rock cores with a diameter of 49mm are obtained by means of a rotary coring system using a non-rotating inner barrel that helps ensure good quality rock samples. The unique BGS hydraulic drive system allows the system to be switched between rotary drilling and vibration modes with no additional turnaround time for cores up to 5m long. Flush water is provided via a subsea pump.
The system is controlled using a real-time data link to the surface that also provides operational and diagnostic information to the operators. The subsea instrumentation includes a video camera that assists with landing, and sensors to record accurate penetration depth and drilling parameters.
The RD1 system can be mobilised on any vessel of opportunity that has a Dynamic Positioning (DP) system and suitable A-frame or crane. The system has also been used on anchored platforms such as Multicats and jack-ups. Mobilisation can normally be completed in 1 to 2 days.
RD1 has been in use for 30 years on scientific and commercial projects from the Arctic and Antarctic to the Tropics. Over this time it has been upgraded to take account of technological developments including increasing the drilling power and converting to fibre optic communication.
RD1 Brochure – technical and operational details
Recent Marine Operations offshore projects
Need more information?
Please contact the Marine Operations team or, if you have a specific project in mind, fill out a questionnaire.
You may also be interested in: