The BGS manages seabed and sub-seabed marine geoscience survey data and is the accredited Marine Environment Data and Information Network (MEDIN) data archive centre (DAC) for geology, geophysics and backscatter. MEDIN is a partnership of UK organisations committed to improving access to marine data.
Data held includes:
geophysical data, for example:

backscatter
shallow seismic
sidescan sonar

seabed sample data from grabs and cores, for example:

geological descriptions
particle size analysis data
geotechnical data
MEDIN provides:
Deposit your marine geoscience data in the BGS MEDIN DAC using the NGDC Data Deposit Portal (select MEDIN from the list of data sources). Data will be archived for the long term and made openly available.
For large or recurrent deposits, please contact us first.
Larger datasets can be deposited by file transfer program (FTP) or hard drive. You should still use the Data Deposit Portal to enter the details and specify how the data will be transferred.
See our data deposit guidelines.
Most open-access data is freely available online under the Open Government Licence. However, some data is not yet processed for online delivery and, in these cases, there may be a charge to cover data preparation.
Data held includes both BGS data and data from other organisations and includes various data types:
The marine data goes back to the 1960s and thus contains a large amount of paper records. Scans are available to view and download through the offshore GeoIndex, though a proportion remain on paper only; these are available on request.
The records range from simple geological descriptions, graphical borehole logs and seismic data plots through to full technical reports.
Data was collected using various geophysical techniques. Digital data is held together with legacy analogue data and paper records. Where possible, records have been scanned and data has been migrated to modern media. A proportion remains on paper; these are available on request.
Seismic reflection profiling data
Sub-seabed imaging gives information about structures beneath the seabed. You can access the data via the seismic reflection layer in the offshore GeoIndex. Digital segy data is available on request.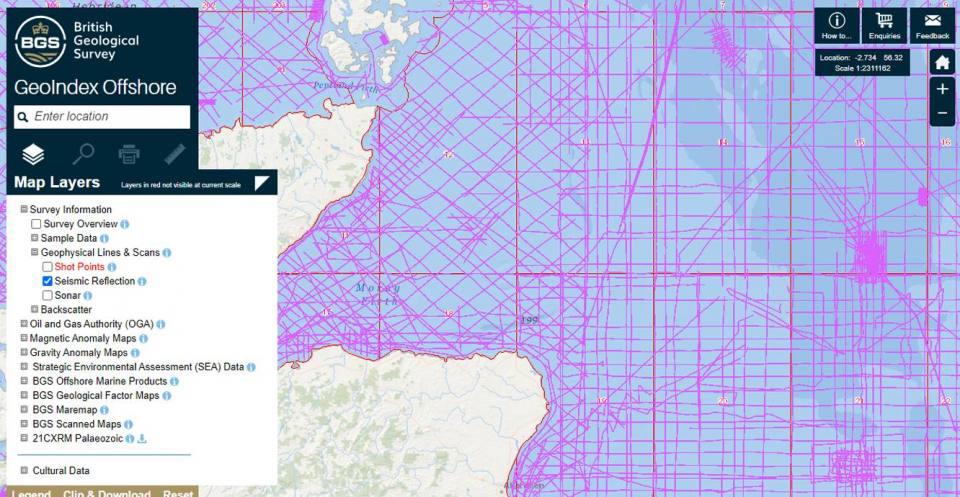 Multibeam backscatter and side-scan sonar data
Seabed imaging provides information about the seabed that can be used in seabed characterisation. You can view and download backscatter data via the backscatter layers and side-scan data via the sonar layer in the offshore GeoIndex. Associated bathymetry data are available from the ADMIRALTY marine data portal.
Gravity and magnetic data
This includes unadjusted ship gravity and magnetic data collected by the BGS or received from various commercial and academic surveys.
Geological sample data from cores, boreholes, grabs, etc. is available via the offshore GeoIndex. Much of the legacy paper records have also been transcribed to digital form.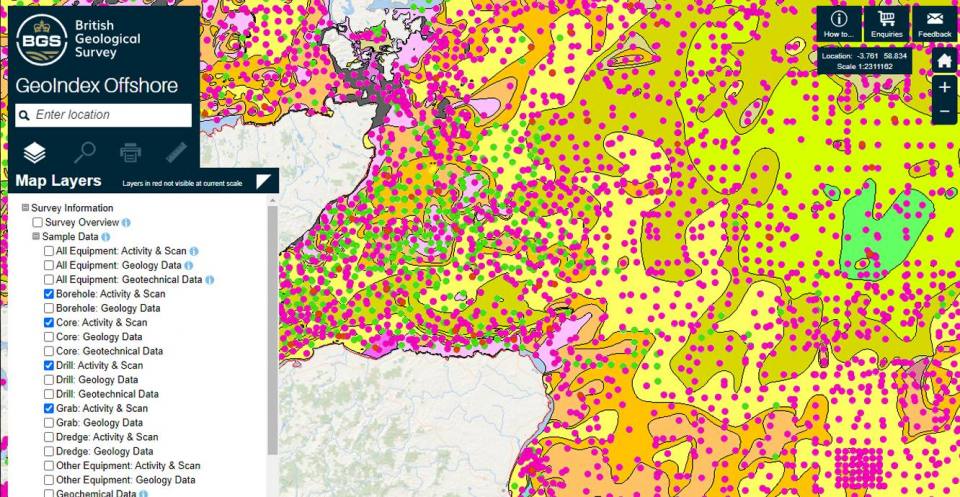 BGS © UKRI.
Particle size analyses
This dataset, primarily at seabed, includes folk analysis, gravel, sand and mud fractions, carbonate content and phi/half phi analysis. You can access data via the seabed sediment data layers of the offshore GeoIndex.
Geological descriptions
Geological descriptions and observations of the various types of lithological units found in offshore samples. You can access data via the geology data layers of the offshore GeoIndex.
Geotechnical analyses
Compressive and shear strength measurements for selected sample locations. You can access data via the geotechnical data layers of the offshore GeoIndex.
Geochemical analyses
Geochemical data, consisting of a set of 38 elements, is available for seabed samples and was  collected from a variety of sediment types. For more information, see The geochemistry of sea-bed sediments of the United Kingdom Continental Shelf. You can access data via the geochemical data layer of the offshore GeoIndex.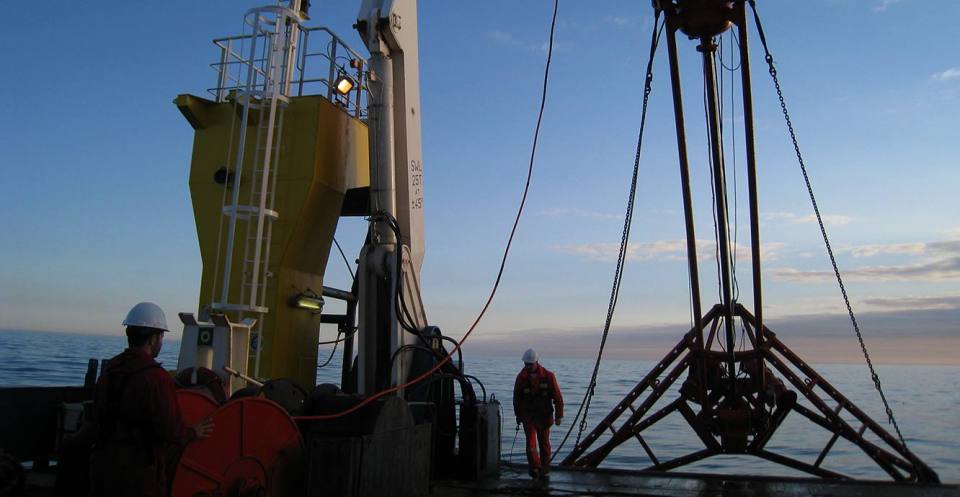 BGS © UKRI.
Much of the legacy paper records have also been transcribed to digital form.
Marine geological samples are held in the National Geological Repository. See Accessing NGR collections if you wish to arrange a visit or sample the material. Please deposit any data from analysis carried out on the samples with the NGDC.
Offshore core material
Borehole, vibrocore and gravity core and seabed drillcore material collected by the BGS and other organisations from the sea areas around the UK.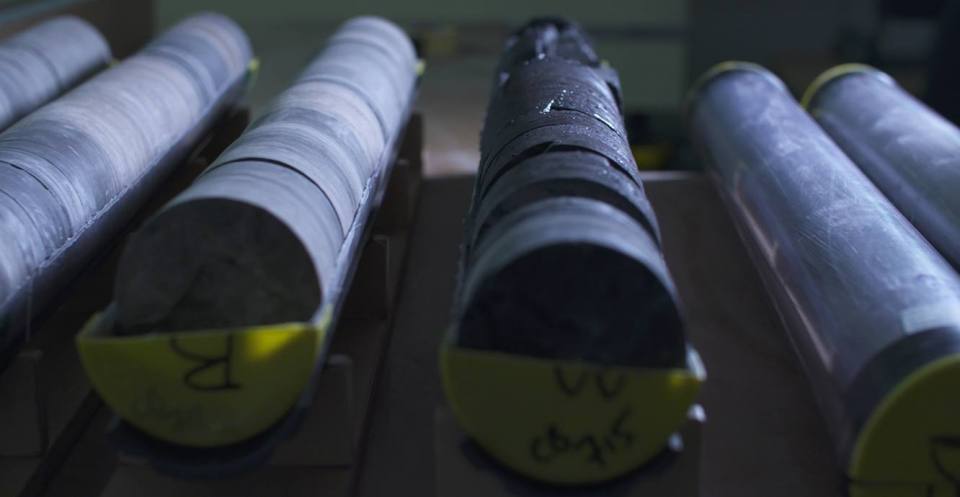 BGS © UKRI.
Seabed samples
Seabed surface samples are material collected using equipment such as grabs or dredges from around the UK.
Offshore hydrocarbon wells
The UK Continental Shelf (UKCS) hydrocarbon well collection contains drillcore material and samples of cuttings. Search the wells or use the offshore GeoIndex and view images of core where available.
MCA CHP seabed samples
Seabed samples from Maritime and Coastguard Agency (MCA) UK Civil Hydrography Programme (CHP) bathymetric surveys and associated data are held and available for further analysis.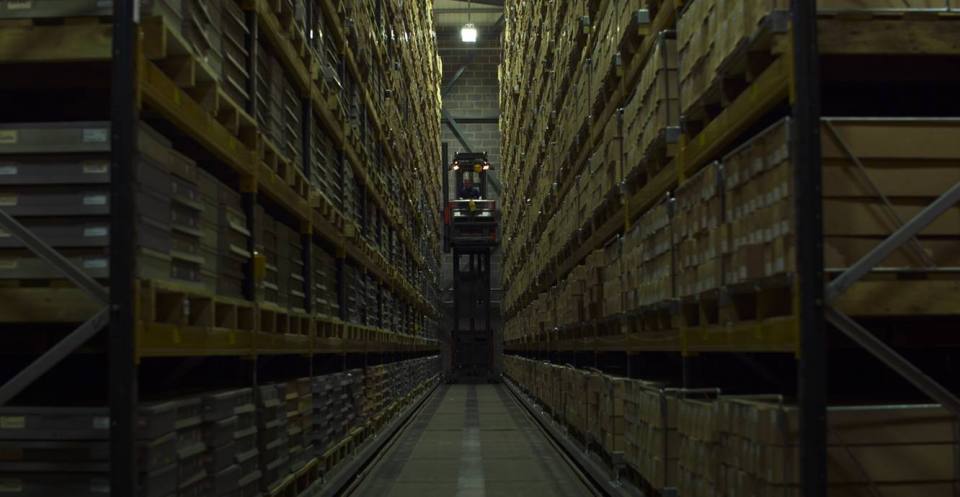 BGS © UKRI.
DAC data deposit guidelines
We accept marine geoscience data in the MEDIN DAC, including geophysical data (e.g. backscatter; shallow seismic; sidescan sonar) and seabed sample data from grabs and cores (e.g. geological descriptions; particle size analysis data; geotechnical data). See BGS marine data and the offshore GeoIndex help page for more details.
If other data types are included, such as biological data, we can forward them to our partner MEDIN DACs.
Ensure the 

summary 

information entered 

in the data portal 

is accurate and meaningful. 

This allows someone to quickly understand what the dataset is and if it is of interest to them.

The dataset title should be brief and precise and include the following: date, organisati

on/programme, location, and

survey and

 data types

.

 

The dataset description should be a clear and concise statement of what the dataset contains. See some examples.
Open data is preferred and data will be made available under an Open Government Licence, whereby it can be used for any purpose without restriction provided the data owner is acknowledged. If you require any other licence, such as Creative Commons, please specify. See Digital Curation Centre's guide on how to license research data.
Data can be held temporarily under embargo (between six months and two years) if required. Metadata will be visible during this time.
If a specific acknowledgement statement is required, please include this.
Let us know if you require a digital object identifier (DOI) so that your data can be cited in the same manner as a scientific journal article. A DOI is persistent and recognises the value of the data and the effort that has gone into its creation.
I

nclude a data availability statement in your publications, specifying where to access the data

 and the DOI

.

See the NGDC deposit guidelines for more details.
The BGS is a partner in the European EMODnet ingestion project, aiming to connect marine data holders not yet connected to existing infrastructures such as MEDIN. Data can be deposited via the EMODnet ingestion portal. After data is ingested, it is passed to the appropriate expert national data centre for publishing.
Discovery metadata is information about your dataset that allows someone else to quickly understand where and when your dataset was collected and what type of data is available.
We provide metadata to MEDIN in the MEDIN discovery metadata standard, which can be searched via the MEDIN portal, or metadata can be provided directly to MEDIN. MEDIN provides some tools for this.
Follow good data management practice throughout the generation of your data and ensure that any data provided is  re-usable.
Use standard, open, non proprietary formats, e.g. segy for seismic data or xtf for sidescan sonar. See acceptable formats and MEDIN data guidelines for more information.

Both r

aw and processed data 

may be deposited, provided the files

 are useful, 

clearly specified 

and processing steps are documented

.

 

Processing techniques 

may

improve in future, en

abling data to be reprocessed.

Do not include duplicate, draft, interim or spurious files or empty folders.
Clearly label parameters and units.
Use unique, meaningful and consistent file names that match documentation.
Quality control your data.
Ensure your data is well organised and consistent. Data can be organised in a defined folder structure such as the BGS folder structure.
See the BGS survey data management handbook for more information.
Include detailed metadata/documentation with your data to enable future users to use the data with confidence. Refer to the MEDIN data guidelines. These are specific to each data type (e.g. bathymetry, sidescan sonar, seismic, grab and core), providing guidance on what information to archive alongside your data.
This also makes it easier to ingest data into the DAC. The information may be provided in a MEDIN data guideline template or survey report, including the information below:
equipment, software, processing, methods, etc.
quality information and any issues
coordinate reference system
reason for any missing data
any other useful documents, such as acquisition, processing, QC reports or logs
GIS information, e.g. polygons, lines and points of survey extent and data locations
if data/metadata are in reports, ensure that the information is easily extractable (tables)
Geological sample data
See the MEDIN grab and core data guideline and geotechnical data guidelines for more details.
Each core or grab should have a distinct ID, which should match filenames/data.
Geophysical data
Processed data should be corrected with any laybacks applied.
Each line should have a distinct name/ID, which should match filenames.
Ensure positional data is available for each line.
Multibeam bathymetry/backscatter data
We archive the backscatter component of multibeam data.
Send bathymetry data directly to the UKHO Bathy DAC.
Photos and videos
Photos and videos from benthic surveys with a biological component should be sent to the DASSH DAC for marine species and habitats data.
We can accept photos and videos from geological surveys with no biology.
Renewables and aggregates data
Oil and gas data
Physical sample material from boreholes, cores and grabs can be deposited with the National Geological Repository.

The possibility of depositing these will be discussed case-by-case depending on location, terminal depth and proximity to other samples.

 Samples must be

 fully and accurately documented

 including 

table

s

 of all 

cores/grabs with positions 

so the material can be correctly registered.

 
Marine geophysical paper records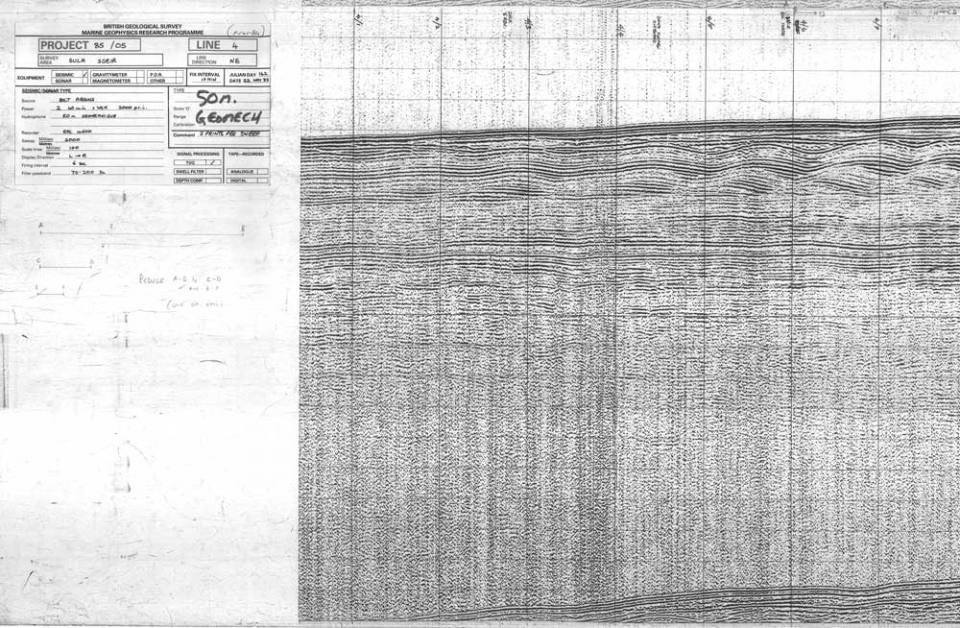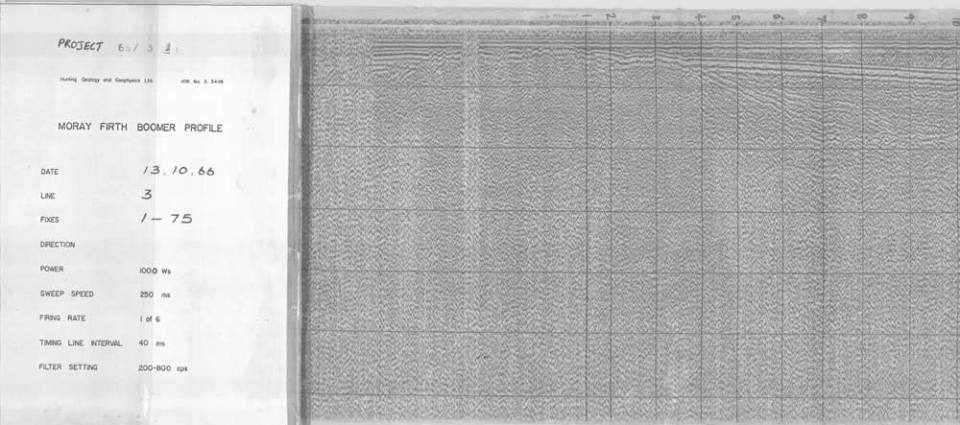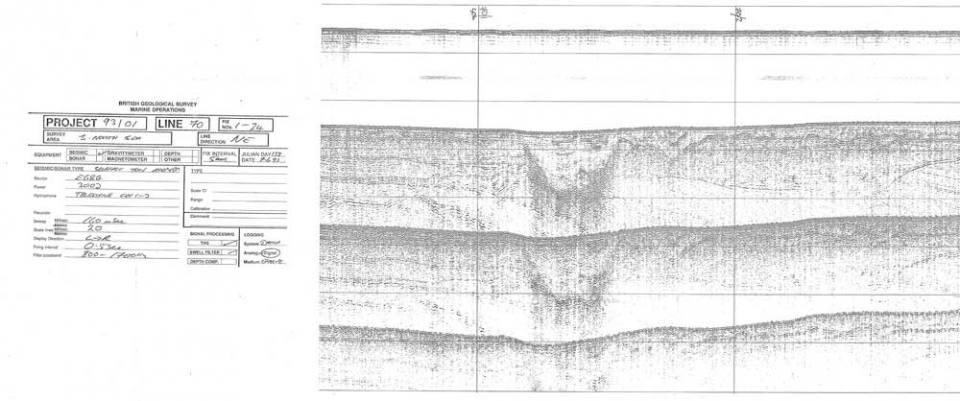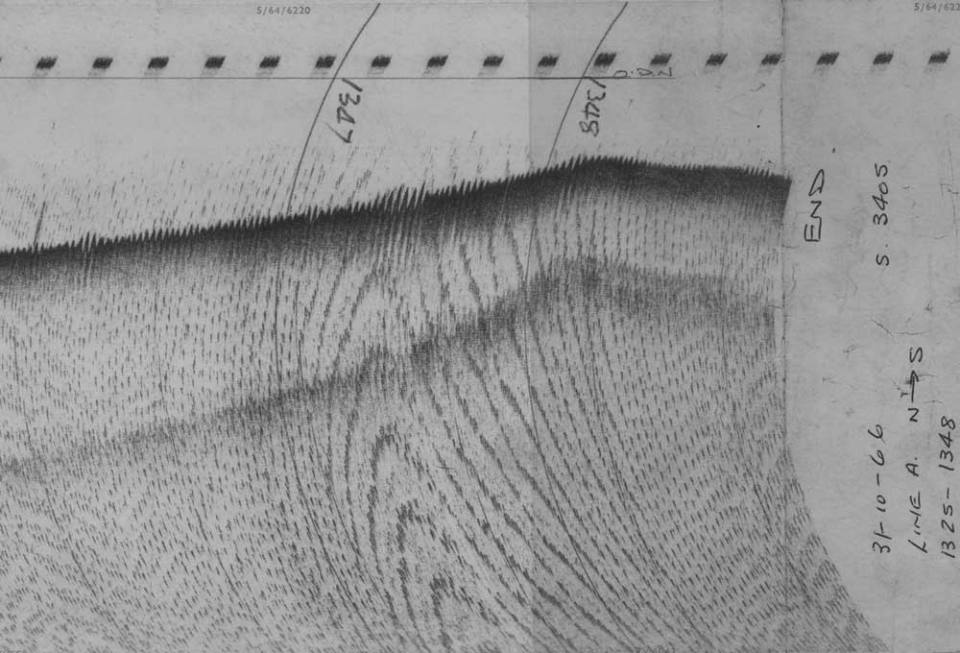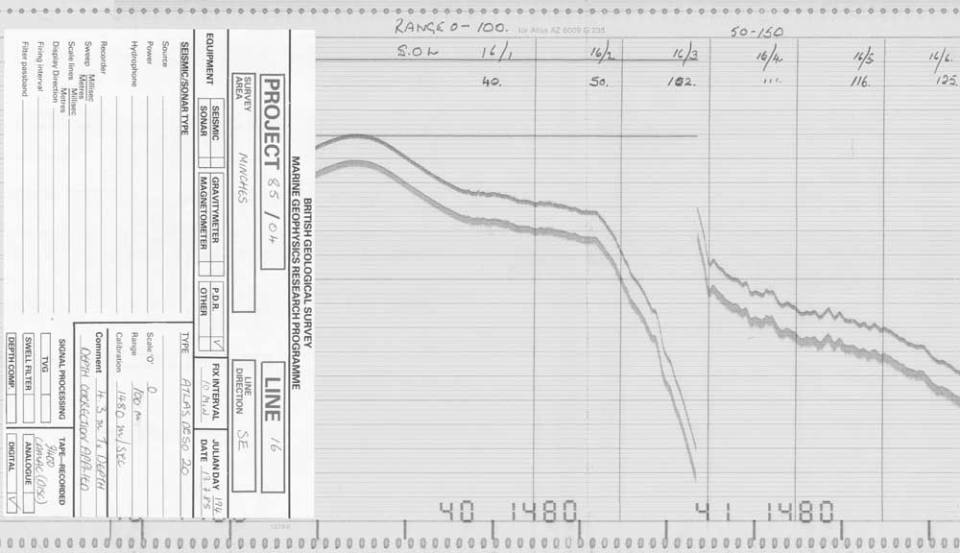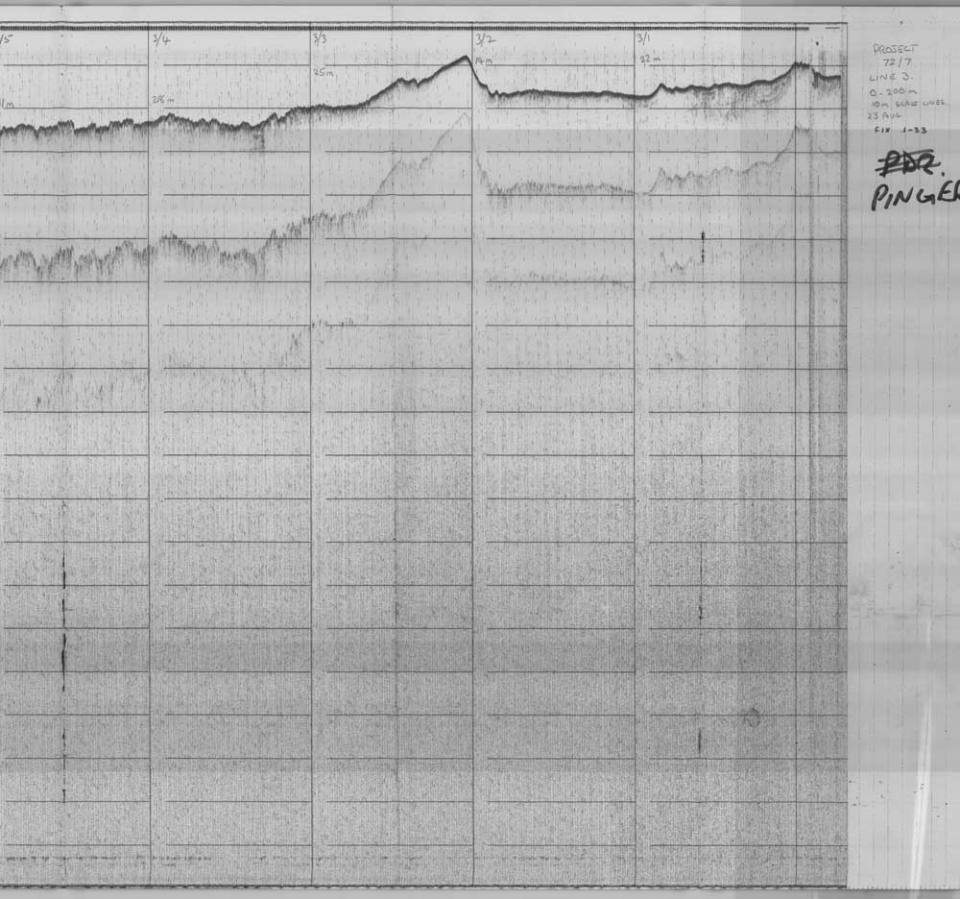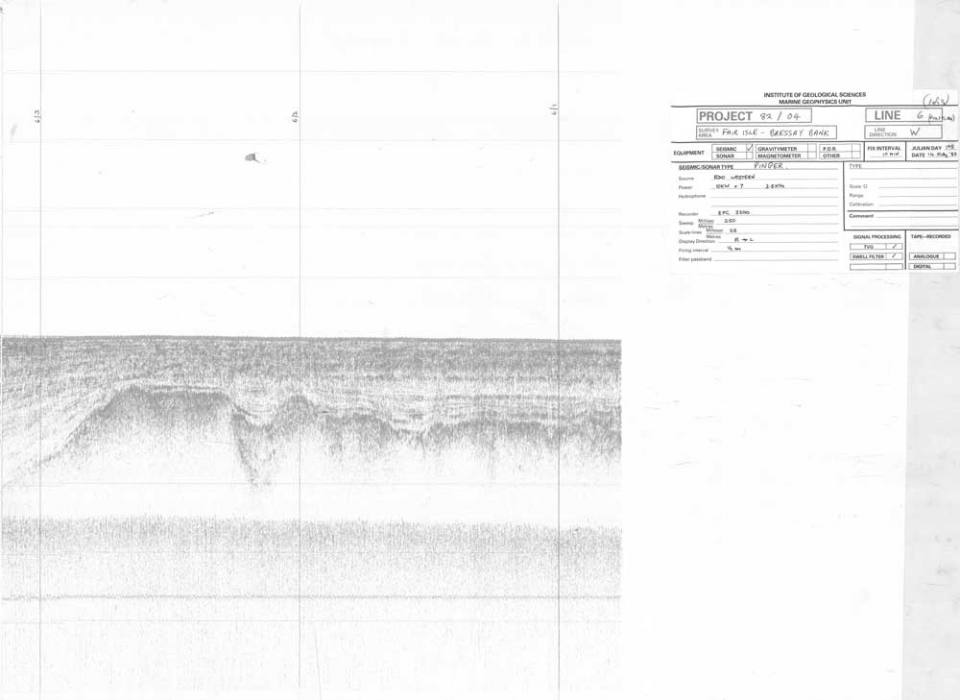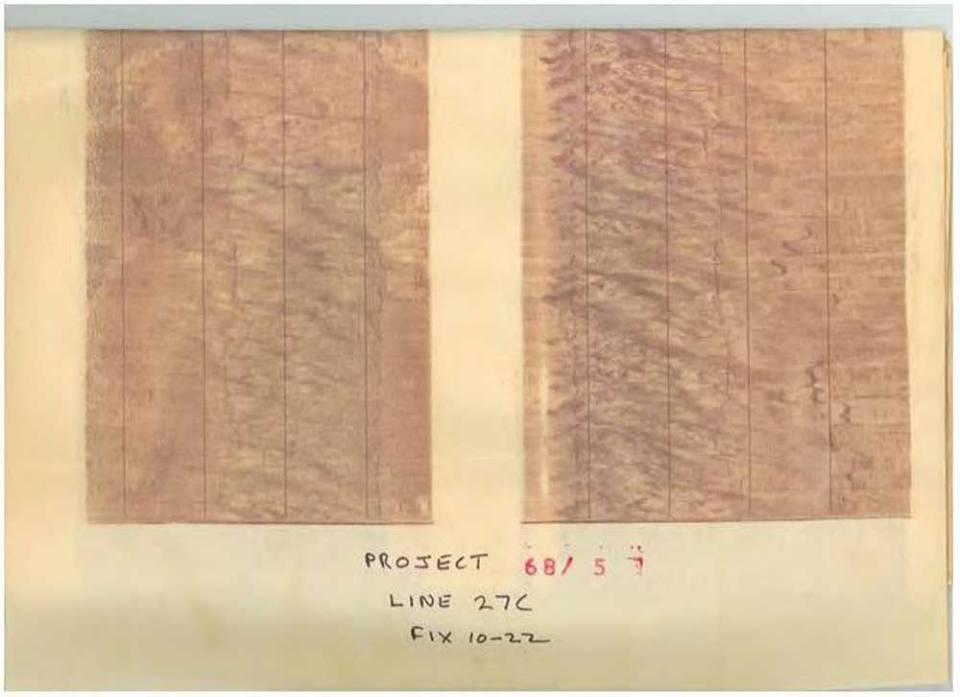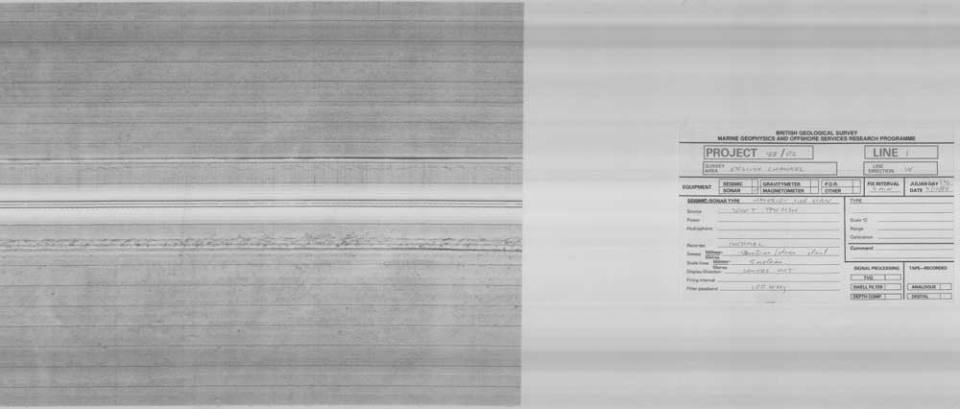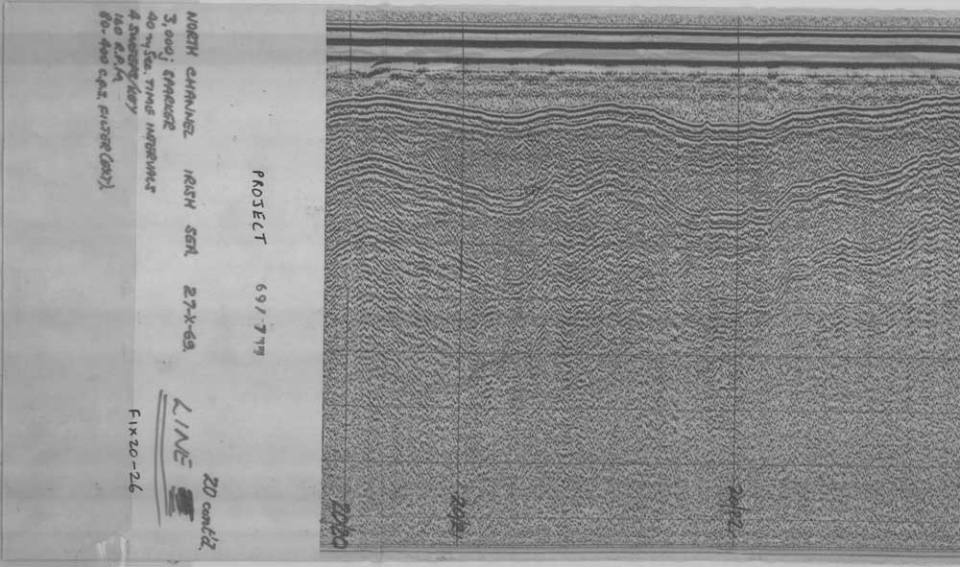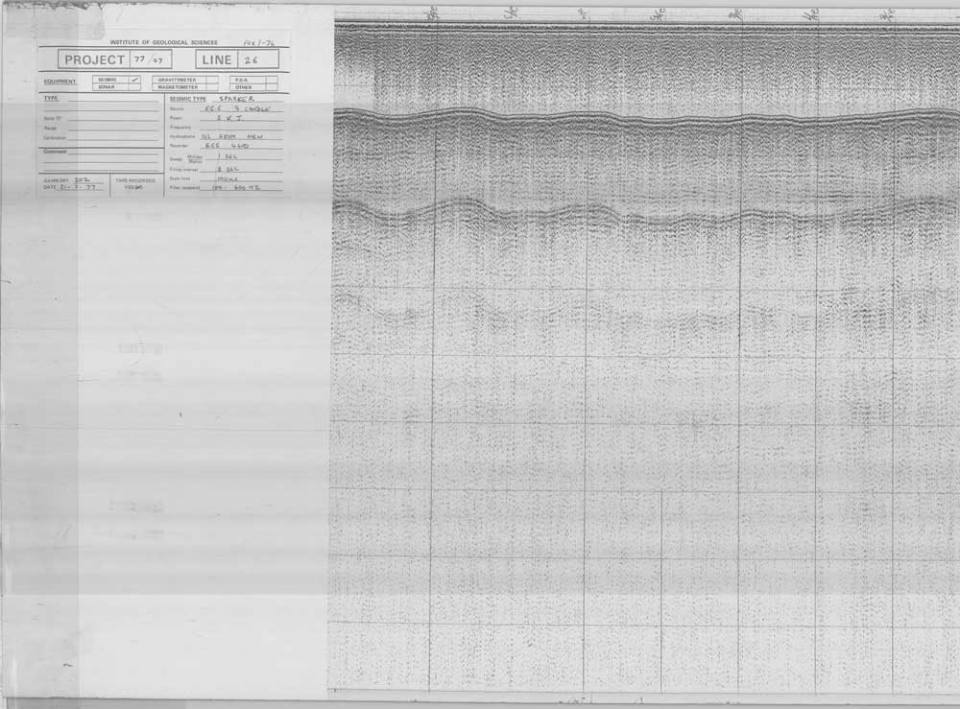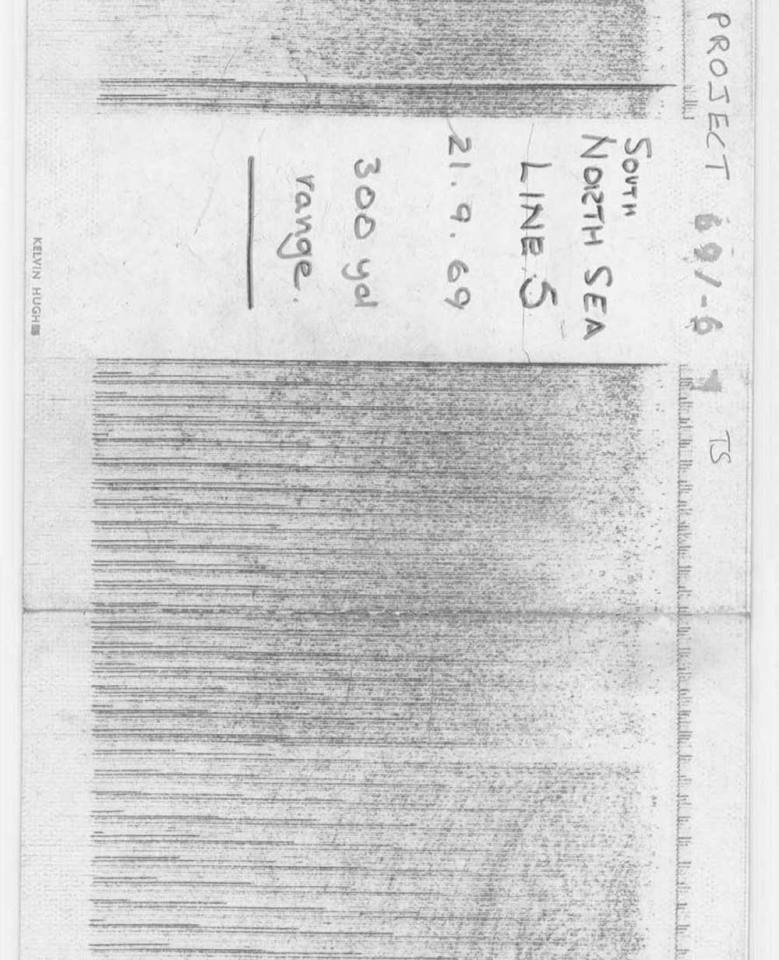 Marine sample/borehole paper records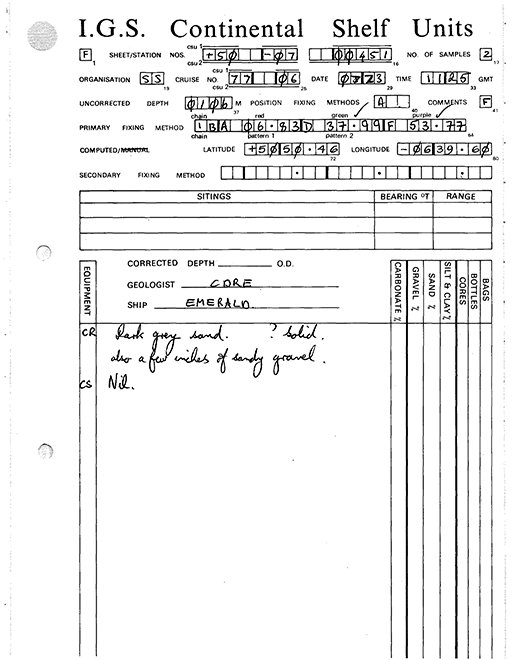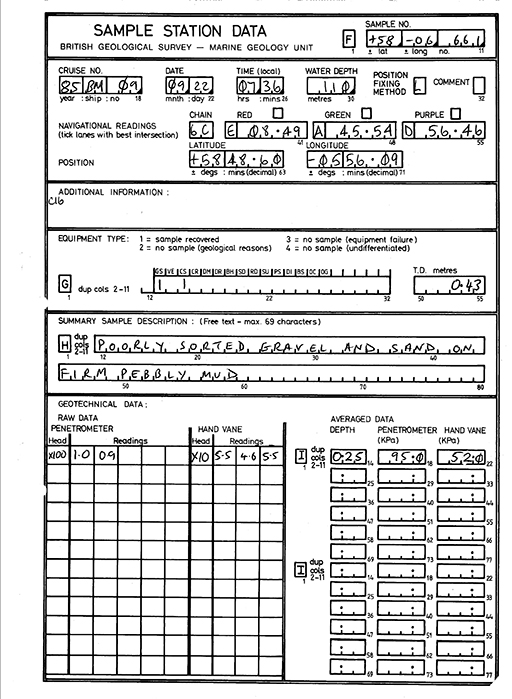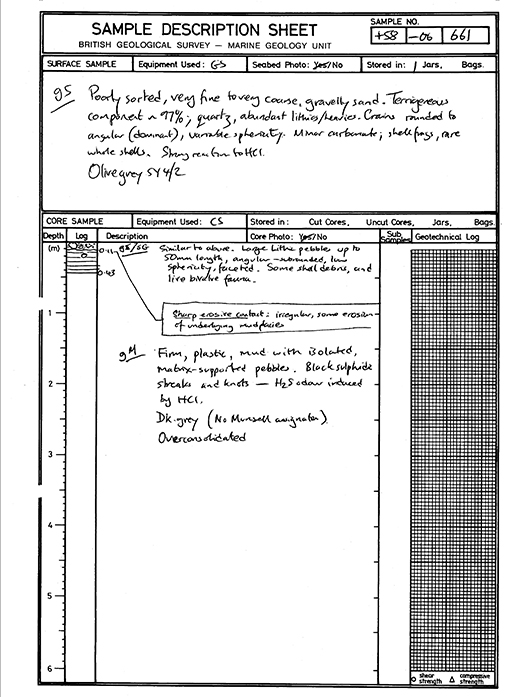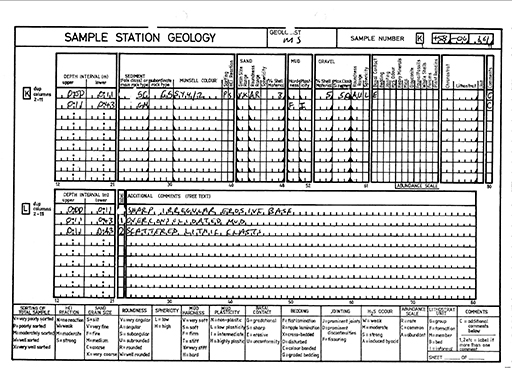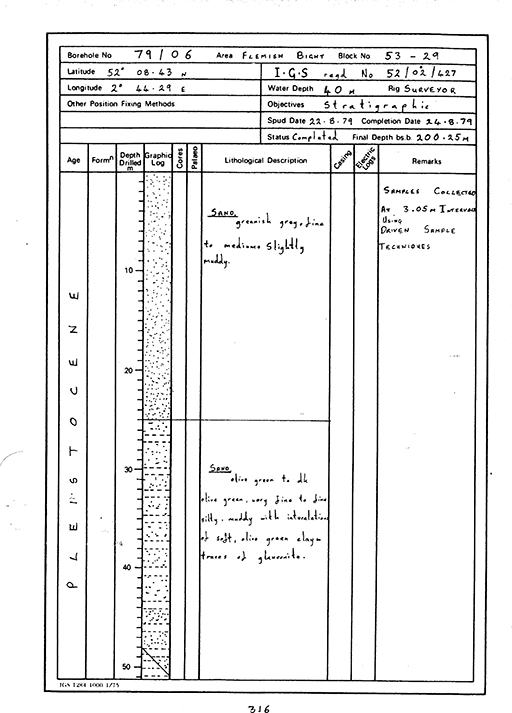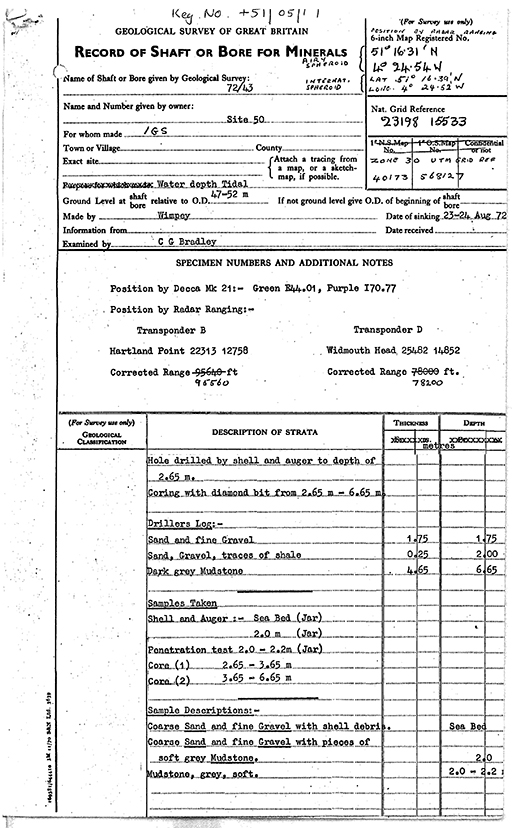 Get in touch
If you have complex, large volume or recurrent datasets please contact us at offshoredata@bgs.ac.uk.
You may also be interested in
Need more information?
For general NGR and NGDC enquiries or to arrange a visit, please phone 0115 936 3143 or contact our enquiries team