BGS news
Prof John Rees appointed BGS Chief Scientist for Multi-Hazards and Resilience
09/01/2020
By BGS Press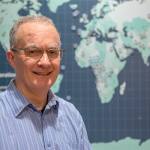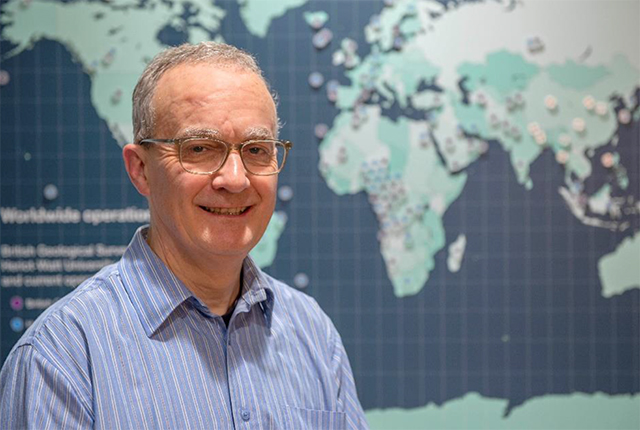 Prof John Rees has been appointed by BGS to be its new Chief Scientist for Multi-Hazards and Resilience.
This important post will complete BGS's new Science Strategy Group to deliver the objectives set out in its science strategy, Gateway to the Earth.
Natural hazardous processes have significant effects on economic growth, the built environment, lives and livelihoods.
Prof Rees will oversee the delivery of fundamental scientific research to monitor, analyse and reduce the risk of geological hazards using multiple data sources and approaches.
Based at the Lyell Centre in Edinburgh, but working across all BGS sites, the role takes leadership of around 100 academic and scientific staff.
Key areas of focus for the BGS will be to support decision-making, working with partners worldwide to reduce risks, support development and identify ways to help communities, government and business build resilience to hazardous events.
Prof Rees, who will begin his appointment in February 2020, said:

"I'm delighted to take up leadership of the BGS Multi-Hazard and Resilience challenge area. The need to address and manage multi-hazard risks is fast-growing in our inter-connected, inter-dependent world.

"By driving cutting-edge science and the harmonisation of different strands of hazard and risk research, BGS will be seen as a key provider of sound, relevant information for business and policy-makers worldwide."
Prof Rees has an impressive background in science and leadership. His knowledge and experience has shaped world-class research and innovation on critically important topics including urban, coastal and marine hazards, climate impacts and disaster risk reduction, both globally and in the UK.
This has been instrumental in shaping the BGS' corporate policy, helping to carve its strategic direction on climate change and environmental risks.
Outside of the BGS, his work for the Natural Environment Research Council (NERC), UK Innovation (UKRI) and the United Nations (UN) has offered important leadership to develop multi-partner, transdisciplinary initiatives and collaborative models that help advance societal resilience to environmental risks.
Director of the BGS, Dr Karen Hanghøj, said:

"We're delighted to appoint John to the role. His profile and reputation in science leadership will be fundamental to delivering the ambitions set out in our new Science Strategy, and we're very much looking forward to drawing on his research, reputation and experience.

"His appointment is another exciting example of how the BGS is committed to delivering research and innovation that drives our vision for a safer, more sustainable and prosperous planet and a future based on sound geoscientific solutions."
For further details or to arrange media interviews please contact:
Hannah Pole, British Geological Survey Press Office, Keyworth, Nottingham, NG12 5GG
Office: +44 (0)115 936 3600 Mobile: +44 (0)7565 297 132
E-mail: hapo@bgs.ac.uk
Twitter @HanPoley2
Notes for Editors

About Professor John Rees:
A Chartered Scientist and Geologist, Professor John Rees graduated from the University of Sheffield before taking a PhD at Trinity College, Dublin.
He began his career at the British Geological Survey in 1986, specialising in urban, coastal and climate change planning.
A representative on several government advisory boards for risk reduction, he was appointed Director of Earth Hazards and Observatories by the BGS in 2016.
He led research and innovation to help characterise major earth hazards, evaluate natural resources and address environmental impacts and was responsible for overseeing BGS' important national seismic and geomagnetic observatories.
In 2013, he became co-lead of the Science and Technology Major Group for the United Nation's Sendai Framework.
He has more than 100 peer reviewed papers, book chapters, articles, maps and reports published to his name.
For more information about Professor John Rees visit here.
Image free for media use with this acknowledgement: British Geological Survey©UKRI
British Geological Survey
The British Geological Survey (BGS) is a world leading applied geoscience research centre that is part of UK Research and Innovation (UKRI) and affiliated to the Natural Environment Research Council (NERC). BGS core science provides objective and authoritative geoscientific data, information and knowledge to inform UK Government on the opportunities and challenges of the subsurface. It undertakes national and public good research to understand earth and environmental processes in the UK and globally. The BGS annual budget of approximately £60 million pa is funded directly by UKRI, as well as research grants, government commissions and private sector contracts. Its 650 staff work across the UK with two main sites, the head office in Nottingham and Lyell Centre, a joint collaboration with Heriot Watt University in Edinburgh. BGS works with more than 150 private sector organisations, has close links to 40 universities and sponsors about 100 PhD students each year. Please see www.bgs.ac.uk.