BGS news
'First of its kind' online tool created to help tackle pollution in London
The new Road Pollution Solutions tool predicts pollution levels from road runoff and suggests nature-based solutions to combat it.
17/10/2023
By BGS Press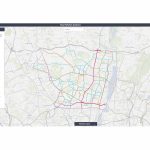 BGS's new, first of its kind online tool, Road Pollution Solutions, has gone live today (4 September 2023) and predicts which roads in London create the most runoff pollutants and how this can be tackled with nature-based solutions. The tool will help local authorities to prioritise water-quality improvement interventions at roads where major road runoff pollution is occurring and in the greenspaces that lie between the roads and the rivers.
Road runoff pollution in rivers and streams comes from oil, diesel and petrol spills as well as the wearing of roads, tyres and braking systems. These all leave residues and sediment that are washed off the roads and into waterways by rain. Roads where heavy goods vehicles regularly apply their brakes are often the worst affected.
Modelling shows that more than 2400 road sections covering a total of 451 km of London's major roads pose a high risk of causing road runoff pollution. These roads are the priority for treatment, with natural barriers, such as wetlands, being used to help capture and prevent some of this road runoff pollution from entering rivers and streams.
The London boroughs 'predicted' to have the most polluting roads include:
Barking and Dagenham
Barnet
Havering
Haringey
Waltham Forest
We have been delighted to work with Thames21 and its partners to create the Road Pollution Solutions tool. It will help local authorities and anyone seeking to improve our water environment to quickly identify the major sources of pollution from roads and to prioritise interventions to tackle them. Nature-based solutions have multiple benefits and we expect the tool to speed up their implementation.

Chris Jackson, BGS Head of Environmental Modelling
Road Pollution Solutions is built on years of research by environmental charity Thames21 and its partner Middlesex University, as well as the South East Rivers Trust. The charity started its initial road runoff project identifying key polluting London roads in 2019, with funding help from the Greater London Authority, Transport for London and the Environment Agency.
Additional support for the creation of the tool was provided by the UKRI/NERC-funded CAMELLIA project.
Project delivered by:

researchers:

Thames21
Middlesex University
South East Rivers Trust

funders:

Environment Agency
Transport for London
Greater London Authority

Project supported by:

Middlesex University
Zoological Society of London (ZSL)
CAMELLIA

Built by: BGS
This study uses numbers of vehicles and vehicle types to predict the amount of pollution deposited on roads and then predicts the degree of damage these contaminants could cause to our rivers. The modelling for this project only applies to the major roads in outer London for which Transport for London has modelled or observed data around vehicle movements. All the roads assessed have potential for damaging river health.
The project assessed six pollutants, five of which have environment quality standards (zinc, cadmium, copper, total suspended solids and benzo(a)pyrene). Pyrene was also modelled as an important indicator of road runoff, though it does not yet have an environment quality standard.
About BGS
The British Geological Survey (BGS) is a world-leading geological survey that undertakes strategic science for the benefit of society. BGS is part of UK Research and Innovation (UKRI) and a research centre within the Natural Environment Research Council (NERC).
BGS delivers research, products and services for the UK, and operates internationally to maximise the impact of its science and to contribute to the UK's international priorities. BGS is the national centre of geological data and information and undertakes monitoring and analytical research programmes. These enable the timely and authoritative provision of impartial and independent information and advice to governments, industry and civil society.
The new BGS Strategy for 2023 to 2028, 'Understanding our Earth', sets out its four priority science areas for the next five years, helping to deliver the necessary geological data and knowledge for a sustainable future. See www.bgs.ac.uk.