BGS signed the Concordat to Support the Career Development of Researchers at BGS, known as the 'Researcher Concordat', on 20 October 2022, which was previously signed by UKRI in October 2020.
BGS signed the agreement to improve career opportunities and provide support for researchers in its employ. The Researcher Concordat aims to increase the attractiveness and sustainability of research careers in the UK and to improve the quantity, quality and impact of research for the benefit of UK society and the economy.​
The principles of the concordat include:​
​ensuring policies are inclusive, equitable and transparent and promote the good mental health and well-being of researchers at BGS
integrating transparency in the recruitment and career development of our scientists with merit-based recognition and promotion pathways
providing opportunities, training and support for researchers to develop their careers across a broad range of pathways
How does BGS define a researcher?​ ​
Researchers are employed to conduct scientific enquiry and engage in the conception and creation of new knowledge, products or processes to benefit society. This may take the form of:
leading research projects​
developing new products or methodologies
engaging with research networks​
disseminating scientific knowledge through papers, presentation, products and teaching​
collecting and analysing or interpreting new data ​
managing research teams and individual career development, budgets and resources
writing code for the analysis of data to solve individual scientific problems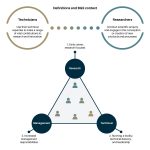 BGS support for current researchers includes:​
dynamic careers opportunities and interdisciplinary collaborations
support for participation in conferences and scientific community roles, especially those aimed at early-career staff
networking, scientific training and seminar programmes
mentoring support for career progression
A career at BGS can span and evolve across roles as researcher and technician, therefore we are developing actions and initiatives for the researcher concordat alongside the Technician Commitment. This allows us to help and support the broad range of staff at BGS throughout their career.
We are currently developing our researcher concordat action plan, and will publish it here when it is completed.
Further information​​
For more information about the Researcher Concordat at BGS, please contact Hazel Napier.
Visit the Concordat to Support the Career Development of Researchers website.