The Technician Commitment was signed by BGS in July 2022, having previously been signed by our parent organisation, UKRI, in February 2021.
The Technician Commitment is a university and research institute initiative that aims to ensure visibility, recognition, career development and sustainability for technicians, technologists and skills specialists working in higher education and research, across all disciplines. In making this commitment, we pledged to work towards the commitment's four key areas of visibility, recognition, career development and sustainability:
to ensure that BGS's technical specialists are visible, valued and their contributions are acknowledged within BGS and beyond
to support our technical staff to gain recognition through professional registration and award schemes
to establish and highlight the broad range of career pathways and skill development available to BGS staff
to allow BGS to use and benefit from the full range of skills and expertise held by our staff and to develop plans to ensure the future sustainability of these capabilities​
How does BGS define a technician?​​
Technicians use their technical expertise and knowledge and their practical, analytical and management skills to make a range of vital contributions to research and innovation including, but not limited to:
delivering the goals of a research and innovation project
maintaining and developing the environment, standards, resources, materials and facilities needed to deliver research and innovation
teaching others the design, use and analysis of research techniques and methodologies
lead on the development or adoption of new methodologies
managing budgets, procurement and teams directly associated with research projects, equipment, instruments and research resources
reporting data and methodologies, either as standalone outputs or contributions to wider team outputs
writing code and building computer systems for collection, storage, analysis and delivery of data
BGS staff covered by our broad, inclusive definition of the technician commitment roles play an integral part in the delivery of strategic goals, whether in the collection and provision of new samples and data, or the management of the data and samples in our national archives and long-term observatories.
Staff provide their technical expertise to a diverse range of projects through their careers at BGS and are supported in these activities through:
dynamic careers opportunities and interdisciplinary collaborations
networking, scientific training and seminar programmes
mentoring support for career development
A career at BGS can span and evolve across roles as researcher and technician, therefore we are developing actions and initiatives for the concordat to support the career development of researchers alongside the technician commitment. This integrated approach allows us to support staff across their career at BGS.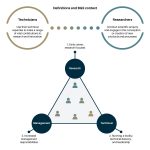 Download our action plan.
More information​
For more information about the Technician Commitment at BGS, please contact Matt Horstwood or Kotryna Savickaite.
Visit the Technicians: we make the difference website.​
Visit the Technician Commitment website.