In collaboration with the Environment Agency (EA), the BGS has developed a web-based tool within a GIS that maps the potential for open-loop, ground-source heat pump (GSHP) installations (heating/cooling output >100 kW) in England and Wales at the 1:250 000 scale and provides an indication of whether these conditions exist in a given area.
The viewer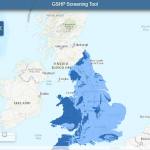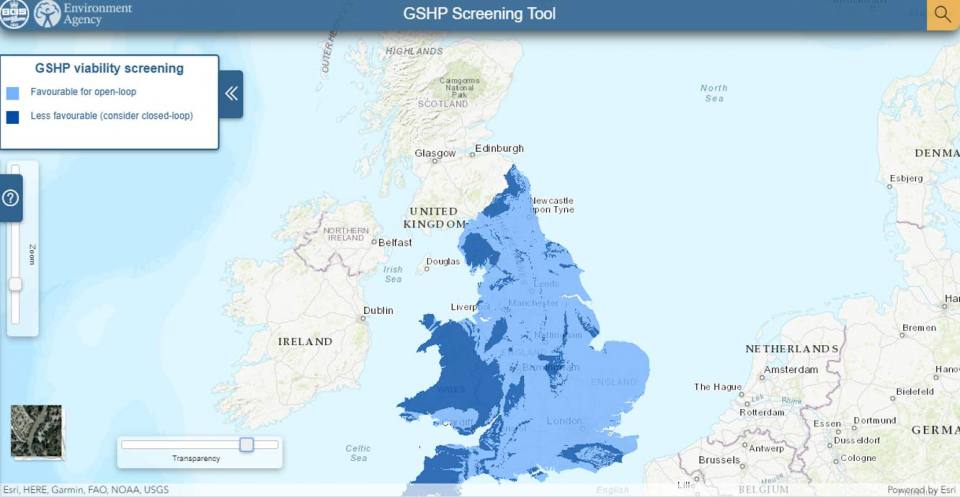 The Open-loop GSHP screening tool considers hydrogeological  and economic factors, including the presence and productivity of an aquifer and depth of abstraction, as well as potential restrictions (e.g. location within protection zones).
The tool also provides information on the currently licensed water abstraction volumes and water-quality information for locations for which such information is available.
The principal viability for GSHP installations (>100 kW) is displayed in the form of a map that shows all areas where the basic requirements for successful GSHP installations (>100 kW) are fulfilled.
More detailed information on the underlying hydrogeological and economic factors is available from summary data tables and through the exploration of the underlying thematic maps.
User guides and WMS
User guides are available for technical and non-technical users.
The open-loop GSHP screening map (England and Wales) is also available to view as a web map service (WMS).
Important information
Please note that the tool provides an initial screening assessment only. It is not suitable for use in the decision-making process on site suitability for GSHP installations. Such decisions require a site-specific assessments of the underlying geology as available in the BGS's GeoReports and from geological consultations.
The tool does not provide site-specific information or information on water availability for your scheme. If this tool assesses an area as being favourable, this does not guarantee that you will get an environmental licence for your scheme.
The tool is not updated. Data was correct at the time this tool was created between August 2011 and April 2012.
Please read the Technical guide and Non-technical Guide for more information.
You may also be interested in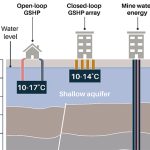 Geothermal energy is available across the UK in different geological settings. It can be used to produce thermal (and in some places electrical) energy for a wide range of uses.
Show more