BGS events
Discover geology with BGS — interactive children's workshop
An interactive online workshop aimed at families with children aged 8–13 and young people interested in earth science.
Event on 25/10/2021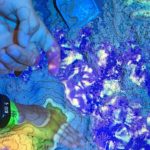 Discover geology with BGS through our virtual interactive children's workshop!
Geology, gneiss, tuff and a little bit of wacke…
Explore geology from the comfort of your own home. Become a mini geologist and learn how to start identifying rocks for yourself!
There will be two Discovering Geology workshops on Monday 25 October at 11a.m. and 4p.m. When booking, please select the time when you would like to attend. The event is aimed at families with children age 8 to 13 and those interested in earth science.
Once signed up to our free workshop, you will be sent a mini rock investigation kit (restricted to attendees from the UK) for you to use during our live webinar. This kit will contain a selection of interesting rocks, a hand lens and a pipette. Using these tools, you will follow our geologist live over Zoom and conduct your own experiments, exploring what type of rock you have and how to identify rocks yourself.
There will be a chance to ask any questions you have at the end of the session.
Alongside your rock kit you will need:
a fork
some vinegar
a cup
1p or 2p piece
paper towel or plate (to stop vinegar going on to the table)
Afterwards, please wash any items of cutlery/crockery before using them again for food.
Please note a parent or guardian should be present with the child/ren during the webinar while the children are using the 'rock kits' with small pieces. During the webinar, there will be a chat function that can be used to communicate with the speaker during the session.
Please register for the time you would like to attend and you will be sent a link to join our free workshop via Zoom.
Please note: rock kits can only be sent within the UK.
If you have any questions or would like to find out more before the event please get in touch using BGSengage@bgs.ac.uk.